From Bikini Bottom to Atlantic, Spongebob the Musical is coming to AHS.
Auditions will be held this week on Wednesday and Thursday after school.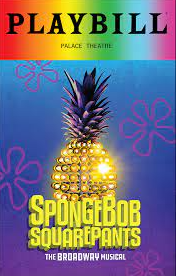 "(The musical) is something that everyone can enjoy from all ages," Choir Director, Evan Adamon said. This year, AHS will be putting on the production of Spongebob the Musical, directed by Adamon, and band instructor, Jarrod O'Donnell.
Since 1999, Spongebob Squarepants has been the number one children's television show. In 2016, Spongebob the Musical went live in Chicago, directed by Toina Landau, and a book was written by Kyle Jarrow. It follows a conflict in the undersea world of Bikini Bottom. An unexpected leader rises up and takes the stage. The story celebrates friendship, cooperation, unity, and inclusion. The musical has many moving roles, including the well-known Spongebob Squarepants characters such as Spongebob, Patrick, and Squidward. The musical also includes a backstage crew and a pit, and it has many moving parts. "The musical is very demanding. It has lots of music, more set, and everything is just bigger," said Adamon. "Every part is important."
"Back in March or April, Papillon La Vista South did Spongebob as their musical. I was expecting something really childish. It incorporated all of the same cartoonish elements as the show but it kinda amps it up," said Adamon. "I'm very excited for more kids to get involved." 
Last year was Adamon's first year at Atlantic High School, where he assisted in the production of The 25th Annual Putnam County Spelling Bee. The Musical had 15 roles. "I liked the production last year since it was my first year, but I'm excited to do something big."
For auditions, there will be a dancing portion, a singing portion, and a cold reading. The dancing portion will be taught by a choreographer that Adamon has worked with previously. "Anyone is welcome to audition, even if you don't have any theatre or choir experience," Adamon said. 
Sign-ups for auditions are on Mr.Adamon's door. In the time that you sign up for, you will sing and have a cold reading. The dancing portion will need to be uploaded onto the classroom. Reach out to Mr.Adamon for any questions.