Year Two: A Distinguished Site
The AHS Needle team secured its sixth SNO badge to earn the honor for the second year.
The journalism newspaper team celebrated Tuesday, March 15, after securing "Distinguished Site" status by School Newspapers Online. The AHSneedle journalists who meet second and fifth periods have been working all year to meet quality standards for the six badges required for the top award: Multimedia, Continuous Coverage, Best of SNO, Audience Engagement, and Story Page Excellence. 
In 2021, AHSneedle won its first "Distinguished Site" award in mid-April. Lead editor Taliya James had a goal of earning "Distinguished Site" before spring break. Advisor Allison Berryhill said, "Working toward the award is a strong motivation for our staff to produce quality work. We have learned a lot throughout the application process and the site looks fantastic."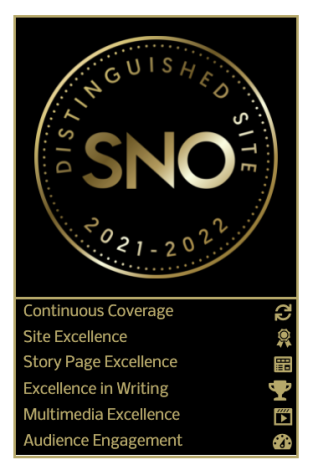 Earning this award has been a goal of all staff since last year when lead editors Molly McFadden and Da'Jai Wesson led their team to accomplish their goal to win the honor.
AHS is the 25th school in the nation to win this award this year, compared to last year when it was 42. The team is the third school in Iowa to win this year, following Pleasant Valley of Bettendorf (12th, Jan. 14) and West High School in Iowa City (23rd, March 11).
This year, AHSneedle has focused on consistently publishing a range of stories, videos, and podcasts. The award acknowledges quality writing, site design, use of multimedia, social media presence, and coverage that is timely and presented in a variety of formats. 
Editor Taliya James said, "I just kept my eye on the prize. I wanted to be the second (AHS) lead editor to lead my team to the Distinguished Site Award.  I kept pushing my staff and myself to be the best we could be."