Senior Year Under the Cloud of COVID-19
AHSNeedle Senior Staff ask that seniors be included in decision making.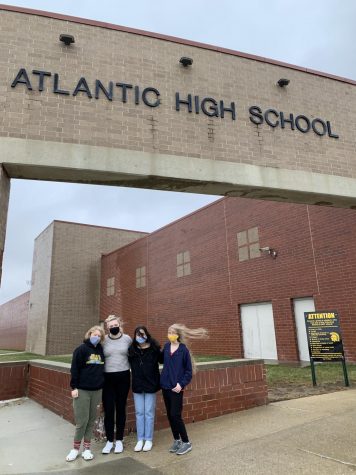 At the beginning of 2020, the hallways were filled with chatter about a new virus called COVID-19. Now, as we near the end of the year, this virus has become a part of our daily lives. It affects every decision we make, every place we (don't) go, and every person we (don't) see. 
On April 17, as Governor Reynolds announced students wouldn't be returning to school, we cried as we watched our friends' senior year come to an uneasy close without warning. What we didn't know was that our senior year would look just as bad, and in many ways, worse. 
The class of 2020 received large amounts of support including posters downtown, daily posts by the principal, a live-streamed graduation ceremony, and a Senior Cruise. By the time the class of 2020 headed off to college, they had received loads of sympathy, as well as an in-person, unmasked graduation and an in-person, unmasked prom in July.
While we're all happy the class of 2020 was able to finish off their senior year with some remnants of "normal," the class of 2021 has only known a senior year amidst COVID-19. We wear our masks to school each day and we have to think long and hard every time we decide to hang out with friends or go out to eat. Every other week a different event or tradition is canceled or "postponed."  People filter in and out of quarantine without notice, disappearing for two weeks at least.
So far, while the class of 2021 experienced a fall sports season, nothing looks the same. For Homecoming, masks were required in the Trojan Bowl as the administration urged viewers to social distance and remain cautious. Our assembly, also in the Trojan Bowl, didn't allow cheerleaders to perform their normal, stunting-filled routine. Meanwhile the choir stood six feet apart across the entire football field while singing into a broken speaker system. The parade, something most AHS students were looking forward to since the recent graduating class had received a "Senior Cruise," was shut down with little explanation. Instead, a reverse parade was held where students felt unappreciated and, honestly, hurt by the unapologetic administrative decisions.
Homecoming isn't the only place where the class of 2021 felt cheated. Other events such as school dances, fine arts performances, and senior nights have also been canceled or changed completely with seemingly little effort to postpone, brainstorm new ideas, or ask the seniors for suggestions. Lately it has felt like few people care that our year is going down the drain. The class of 2021 is being left out of the hard conversations.
As the AHSNeedle senior staff, we are thankful that the class of 2020 received some closure after their uneasy ending to the school year. We are glad their hard work was celebrated, even if it looked different. We hope that the class of 2021 can receive the same amount of celebration and appreciation from the school and community as we finish our senior year.