Finding the Good, Amidst the Difficult
From cruise nights to egg hunts, Atlantic has found ways to stay connected.
Social distancing orders have brought many struggles. The class of 2020 is devastated their senior year hasn't gone the way they planned, students are lost without their spring activities, and others have found themselves in the slumps. Many people during this time have felt lonely, sad, and scared.
Although the world has shifted and times are hard, there are amazing things occuring to combat the negativity. Everywhere you look, someone is spreading positivity, especially in the community. People who usually run a busy schedule now have an abundance of time on their hands. This extra time has brought about many good things around Atlantic. 
Many members of the community have contributed to spreading positivity. From writing others letters to donating essentials to those in need, good deeds are being done all around town.
One example of this is the Cruise Night that has been occurring on Thursday nights. Tony Miller organized this event in Atlantic after being inspired by surrounding areas. The premise is that a family can drive downtown and see people they haven't in awhile. From the safety of a vehicle, participants are able to wave and honk at friends.
Freshman Charlotte Saluk attended the event with her family. "It was really cool seeing so many members of our community get together to do something to get us all together," she said. Saluk said it was fun and she would definitely go again.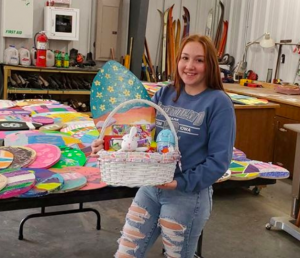 Unable to hold a standard Easter egg hunt, Atlantic Parks and Recreation got creative. On Saturday, April 11 they held the Easter Egg Cruise in Sunnyside Park. They had many families volunteer to paint large wooden eggs for the hunt. When the event was held there were 108 painted eggs displayed around the park, as well as smaller hidden eggs. 
Vehicles drove through the park and looked for the hidden golden eggs. Visitors were also asked to vote for their favorite painted egg. At the end of the hunt, children could pick up a treat off of the table. Throughout the three-hour event, 188 vehicles traveled through the park. The winner of the best-painted-egg contest was freshman Gracie Flinn who painted clouds and flowers on her egg.
Staying positive in this time of need is vital to helping yourself, as well as others.
About the Contributor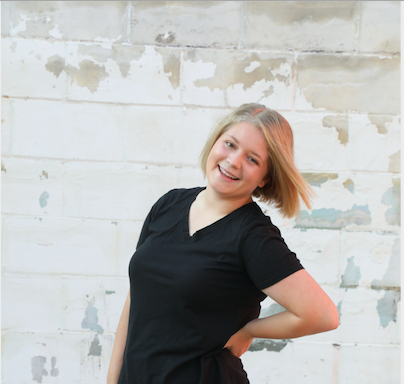 Molly McFadden, AHS Needle Editor in Chief
Senior Molly McFadden loves everything she does. That's why she does it all. McFadden is involved in choir, show choir, fall musical, spring play, football...