Multiple Events Advance to Districts for FFA
Four events made it outright, and three will be alternates.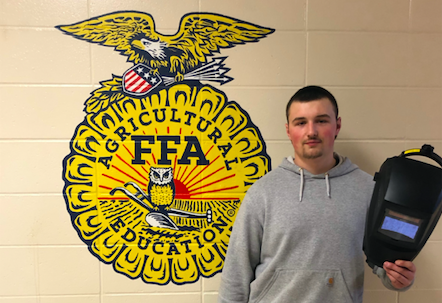 Atlantic FFA is staying busy as the last weeks of winter trickle away. Twenty-one members traveled to Manning on Wednesday, Feb. 12 for the Sub-District contest. Four individuals in the Sub-District Career Development Events will move on to the District contest.
Senior Carli Henderson competed in the Extemporaneous Speaking category, earning first place. As she finished first, Henderson earned the Gold and will advance to Districts. Junior Gunner Kirchhoff was the top finisher in the Ag Welding competition. At Sub-Districts, Kirchhoff snagged the Gold. Junior Craig Alan Becker was the runner-up competitor in Ag Sales, earning the Gold and his spot at the District contest. In Ag Broadcasting, it was sophomore Drew Engler taking third and grabbing the Gold. All four events will compete at Districts. 
Atlantic also earned three alternate bids on Wednesday. In the Public Speaking event, it was junior Taylor McCreedy taking fourth place and the Silver. Sophomores Aspen Niklasen, Malena Woodward, and Wyatt Redinbaugh, as well as freshmen Sofia Mendez, Daniel Freund, Dylan Comes, and Jackson McLaren, made up the Conduct of Meetings team. The group placed fourth and earned the Silver. The sophomore trio of Bryan York, Cooper Jipsen, and Logan Eilts competed in the Chapter Program event as a team. They placed fourth, earning the Silver. 
Also on Wednesday, senior Tate Den Beste competed in the Job Interview category, taking home fifth place and the Silver. Den Beste will not be advancing to the District competition.
In the Farm Business Management Test, three FFA members competed. The all-junior group of Drey Newell, Hannah Carlson, and Caroline Pellett swept the top three places.
Four freshmen took the FFA Freshman Greenhand Quiz. Atlantic's top finisher was Comes, as he came in sixth. Right behind him was Mendez in seventh, followed by McLaren in eight place. Freund earned 22nd place in the contest.
The District contest is Saturday, March 7 in Harlan.