Education on an Excursion
Spanish students prepare for the upcoming Costa Rica trip.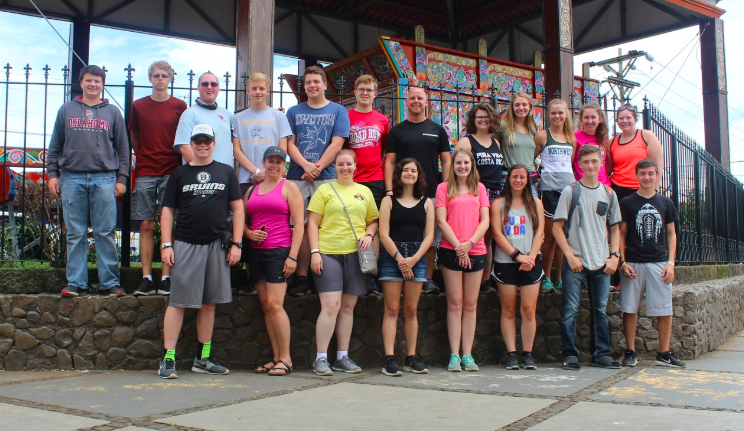 After two years of learning Español and keeping a grade above a C-average, some students in Atlantic High School take the opportunity to travel with Spanish teachers Daniel Vargason and Trisha Niceswanger to Costa Rica. While there, the students go ziplining near a volcano and go on many nature walks. Vargason said traveling as a student is a wonderful opportunity for anyone and a great way to experience culture.
Vargason has been taking students to Costa Rica every two years since 2014. He keeps going back with different students every other year to show the culture difference. He really enjoys teaching students globalization. He also likes being in the friendly environment, and showing students that there is more in this world than the cornfields of Iowa. Vargason stated he keeps returning to Costa Rica for many reasons, one being the safety of the country. He also said traveling to Costa Rica is more cost-friendly than trekking to the farther-away Spanish speaking countries. 
The next trip is planned for July of 2020 with 28 students attending. The students attending are all very excited. Junior Dazia Sorensen said she is hyped to see the volcano and go ziplining, while junior Keagan Garcia is just excited to visit a new country and experience new cultures. They are both very pumped to test their Spanish skills with a native speaker.
The last Costa Rica trip was in the summer of 2018 with 16 students in attendance. Seniors Cayman Muzney and Zachary McKay said most of the students on the trip came back and felt as though they had been enlightened. They also thought the excursion was enjoyable. When they first arrived, they went sightseeing, ate at Denny's, and experienced many activities in the city. Muzney's favorite part of the journey was kayaking on a clear lake. "Evalyn was my partner and she basically rowed the whole time so I didn't really do anything," he said. Meanwhile, McKay's favorite activity was going to a waterfall where "you climb down this mountain and spend time in the springs." While being a trip set for a wide-range of students, they each had their own dislikes. Muzney didn't necessarily enjoy a "slow gondola ride where the guide pointed out different birds," while McKay didn't enjoy the bus rides between locations. Vargason does warn students of the long nature walks and winding bus rides during his pitches for the trip each year.