Fall 2019 FFA Update
The Atlantic FFA chapter won two divisions at the Northwest Missouri State University contest.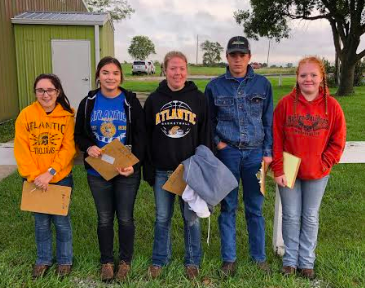 The Atlantic FFA chapter has been very busy this fall. The crew participated in a variety of contests at Northwest Missouri State University, along with schools from two other states. The events the chapter participated in were Livestock Evaluation, Horse Evaluation, Dairy Cattle Evaluation, Farm Business, and FFA Knowledge.
In the Livestock Evaluation contest, five FFA members competed from Atlantic. Freshmen Sofia Mendez and Kate Oettchen, along with sophomores Malena Woodward, Wyatt Redinbaugh, and Kaitlin Jensen made up the team that finished 33rd out of 60 teams. The goal of this contest was to showcase individuals' knowledge on different breeds and markets of swine, beef, and sheep. Woodward was the best finisher from the Atlantic chapter in the individual contest with 40th.
In the Horse Evaluation contest, junior Taylor McCreedy earned a top five finish in the quiz on halter and performance equine classes. Her classmate–Hannah Carlson–finished 40th out of 90 entries.
The Atlantic FFA chapter took home a big victory in the Dairy Cattle Evaluation contest, where they placed first amongst the teams from Iowa. The purpose of this contest is to hone competitors' skills in dairy cattle selection and dairy herd management. Individually, freshman Daniel Freund finished 11th, the best Atlantic finish out four entries. Freshmen Dylan Comes and Jackson McLaren, as well as sophomore Logan Eilts also competed. In total, there were 100 entries.
Juniors Drey Newell and Gunner Kirchhoff, and seniors Tate Den Beste and Adriana Mendez made up the Farm Business team. The chapter took the top prize in the teams from Iowa. The purpose of this contest is to test exhibitors' skills on all things related to the financial standing of a farm.
In the final contest–the FFA Knowledge Test–junior Alyssa Derby placed sixth out of 132 participants. The FFA Knowledge Test is a written examination that features 100 questions. It covers general FFA knowledge.
Following the contest, advisor Eric Miller said, "I was very happy with the results. Most of our students use this contest as a way to see if will be interested in trying this at the State level for the Iowa FFA Association."
On Oct. 4, State FFA Vice President, and Atlantic High School alum, Tyler Comes visited the Atlantic FFA chapter. Comes talked with the Atlantic FFA chapter about what the future of FFA looks like.
Next up for Atlantic FFA is a trip to the national convention, which begins on Oct. 29.