Trojan Boys' Season Comes to a Close
Individual state qualifiers Nile Petersen and Grant Sturm face tough competition in Waterloo.
District champion Nile Petersen and district runner-up Grant Sturm were the final representatives of the Trojan boys' tennis team as they both qualified for the class 1A state singles tournament. Petersen repeated his qualification in this event and Sturm punched his ticket for the tournament in his rookie season. Both boys posted strong records during the regular season, and looked to do the same at state. However, tough competition limited the boys' run in the draw, and the two Trojans failed to make day-two play in Waterloo.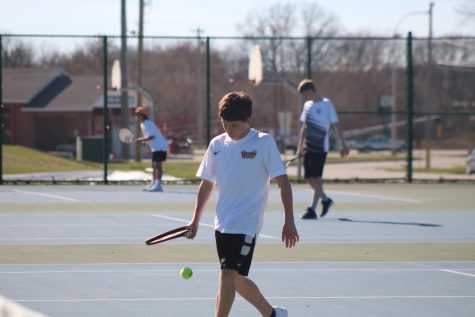 Sturm went 0-2 at state. His first match was against the Hawkeye 10 #1 singles conference champion–Reed Miller of St. Albert. R. Miller's experience thwarted Sturms' hopes of making it into the second round, and Sturm lost his opening match, 6-1, 6-0. In the consolation bracket, Sturm faced a senior from Fort Madison. Sturm came up short in straight sets, 6-3, 6-3, which ended his run at the state meet.
Returning state-qualifier Petersen went 1-2 at state, the same record he attained last year. In the first round, Petersen faced a sophomore from Pella, who got the best of him in straight sets, 6-0, 6-4. After losing, he entered the consolation bracket. His first match in the consolation bracket was Jeff Miller of St. Albert, the younger brother of R. Miller. Petersen outplayed J. Miller, 6-1, 6-4.
With the win, Petersen stayed alive in Waterloo, going on to face the eldest Miller brother, who had beaten Sturm in the first round. R. Miller had beaten Petersen twice this season, once at the Hawkeye 10 meet, and once in a dual. In the consolation quarterfinal, Petersen lost to R. Miller for the third time this season, 6-0, 6-1, which booted him from the state draw.
Neither boy took home a medal. Petersen finished the season with a singles record of 16-3, and Sturm finished the season with a singles record of 16-4.