One Last Go Around for Trojan XC
The boys' and girls' cross country teams finished their season at the State meet.
Since 1979, girls and boys across Iowa have competed together in an annual statewide meet with 2018 marking the 89th year for IHSAA State Cross Country and the 53rd year for IGHSAU State Cross Country. Each of the Trojan cross country teams had the opportunity to compete this year on Saturday, Oct. 27 in Fort Dodge and left with an all-honors finish from sophomore Taylor McCreedy, as well as a top-ten finish from the girls' team.
However, head coach Dan Vargason said he wanted to make sure his athletes were "relaxed," and added fun activities to the weekend. He also advised the runners to try their best to keep their routines the same, as that may also help with nerves and performance. "Seeing the hard work pay off for people: that's what makes it fun when you coach. Even if you don't get to go to State, that just made it even sweeter," Vargason said.
Beginning with a send-off Friday morning, the team left on their way to Fort Dodge, stopping at Ledges State Park for the last practice before State; something the cross country teams have enjoyed for many years. That evening, the team had dinner and went bowling in hopes of easing any nerves that might've been manifesting. "You usually don't run well when you get worked up so we just tried to have some fun," Vargason said.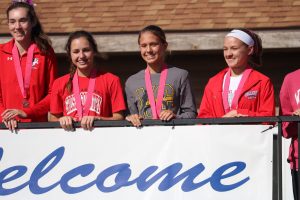 The next morning, the Trojans arrived at Kennedy Park and Lakeside Golf Course and it was "time for business." The girls ran first at noon, followed by the boys at 12:30 p.m. Returning for her second State appearance, McCreedy said she was calmer this year, as she knew what to expect. "The first year I had no idea what it was going to be like." Finishing in sixth place with a time of 19:00.3, McCreedy said being able to achieve the honor of joining the other top-15 finishers on the deck was incredible and is her "new favorite memory." She attributes some of her success to getting out faster than she did in the previous year, as it allowed her to "stay ahead of the pack" and avoid getting stuck or passing competitors in close situations. Looking excitedly towards the next season, McCreedy said, "We'll just see what it holds."
Coming in with just 42 seconds between the second and seventh runner were the rest of the Trojans, led by Pluma Pross in 69th place. Following Pross was Madison Botos in 77th with Ashley Wendt two seconds behind in 82nd. Karsyn Rush finished next in 90th, bringing the total team score to 210 points, good enough for a seventh-place finish to meet the team goal of top ten. Addie DeArment and Katie Saluk rounded out the Trojans in 105th and 115th. Vargason said, "We ran consistent, put down good times, put ourselves in a good spot and competed," finishing "definitely about where we expected."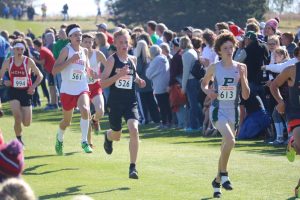 For the Trojan boys, junior Evan Brummer led the pack, finishing 38th in a time of 17:18.3. According to Brummer, the start of the race was as he expected: fast. "I was worried that I was going to burn out in the first mile, but I just forced myself to keep pace," he said. One way he prepared for the meet was keeping his routine the same, as Vargason directed the teams. "I just sat on the bus, listened to music and thought about running." Brummer said he hopes to keep cutting his time down when the next season rolls around.
In 67th place, Jalen Petersen was the second runner for the pack, followed by a 98th place finish from Bradley Dennis. Wrapping up the scoring five was Zane Berg in 120th and Cooper Jipsen in 127th, bringing the boys score to a total of 350 points. Leaving with a 15th place team finish, Vargason said, "We had quite a few guys run well, but I think the big lights at State intimidated a couple guys and it was a good learning experience." The Trojans had hoped to go 13th or 14th but fell short of that goal. Sixth and seventh runners Aybren Moore and Ethan Williams placed 128th and 129th, respectively.
For the 2019 season, the varsity teams will be returning six boys and five girls. "We have a lot of JV runners that were highly successful and you never know what a summer will do for people," Vargason said. Overall, he said he was proud of the way the team interacted with each other and with the community. According to Vargason, he also plans to keep things mostly the same for next year, as the way things went this season shows that it works. "You just cater it to your runners," he said.
Leave a Comment
About the Contributors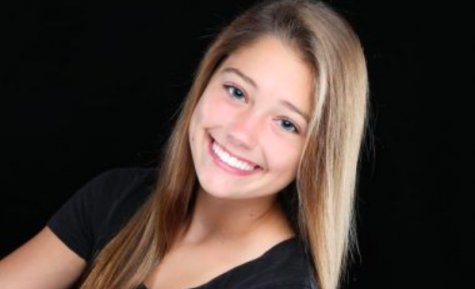 Ashley Wendt, Lead Editor
Journalism is a family affair for the Wendts, as Ashley Wendt's siblings got her involved in Journalism. Her brother Trevor was the first to join and...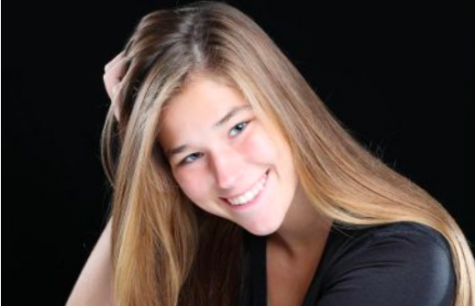 Erin Wendt, Business Manager/Editor
Serving as a lead editor and one of the business managers, senior Erin Wendt has been involved in journalism since the beginning of her sophomore year....