NEWS BRIEF – Classic Book Club Makes Its Debut
Students can study classic literature in new club.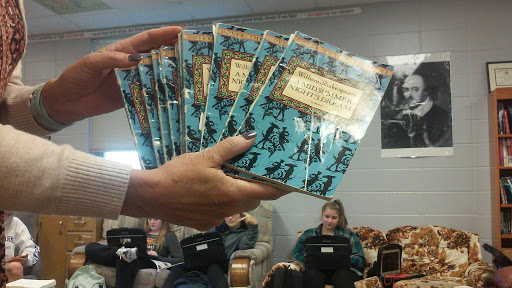 Hang on for a minute...we're trying to find some more stories you might like.
Looking for a way to pass the time? Look no further than the Classic Book Club, where students can enjoy classic literature with their friends and learn all about the books they don't visit in class. Classic Book Club was first the thought of two freshmen, Katy Rothfusz and Brynna Kern.  Bireline said the girls had "huge interest in learning about and understanding literature."
English teachers Emma Bireline and Allison Berryhill are overseeing the management of the club while suggesting topics and titles to the members. Possible titles include "A Tale of Two Cities," Shakespeare, "The Scarlet Letter," and "1984."
In relation to the number of members the club would like to have Berryhill said, "It's not important to have a huge group, we want students who truly have an interest in learning about literature." The club has chosen to meet on Tuesdays in Berryhill's room during the A-O period.
Oct. 23 was the first meeting of the club so it's not too late to join. Bireline spoke about the contents and the success of the first meeting, "Pretty good, we just discussed what we might do in the future."