Trojan Runners Make the Most of the Mud
The cross country teams competed at Grinnell for the first time this past week.
Hang on for a minute...we're trying to find some more stories you might like.
Rain or shine, nothing seems to stop the Trojan cross country teams from competing. With a cancellation of the Clarinda meet due to weather and a last minute schedule change, they traveled to Grinnell with a showing of 15 teams, multiple ranked. The course was also moved the day of the meet from Ahrens Park to the grounds of the new elementary school.
Head coach Dan Vargason said he was not worried about the conditions of the course because the team has been training in the conditions. "Actually I think that makes it more memorable in my opinion," Vargason said. Overall he was pleased with the results, considering the number of ranked teams and individuals present. To continue to compete at a high level with the consistency that the Trojan runners have shown is something Vargason said any coach would be happy to have.
"
A lot of kids showed that resilience to finish."
— Dan Vargason
Despite the hectic schedule and course conditions, the runners weren't about to let a little mud get in their way of performing. "A lot of kids showed that resilience to finish," Vargason said. The meet started with the varsity girls running first, going into the meet ranked #11 in 3A. They finished third with 98 points, just four behind first-place Pella and second-place Carlisle, who each scored a total of 94. Sophomore Taylor McCreedy led the girls once again, completing her race in 19:43.2 and securing a second-place finish. McCreedy said she "felt good and ready to run" before the meet but had to go slower than she would've liked due to the course conditions. Behind McCreedy came Karsyn Rush in 18th, Pluma Pross 21st, Ashley Wendt 24th, Madison Botos 33rd, Addie Dearment 34th and Abby Altman rounded out the varsity girls in 44th place.
Next up was the varsity boys, who left with a fifth-place finish behind three ranked teams. Crossing the line in 17:45.7 and third-place, senior Jalen Petersen was first for the Atlantic boys followed by the junior duo of Evan Brummer and Bradley Dennis in 14th and 17th, respectively. Zane Berg was the number four runner on the team in 48th ahead of Ethan Williams in 52nd. Cooper Jipsen and Nathan Brockman finished strong for the boys in the competitive field, placing 71st and 72nd.
Sophomore Katie Saluk started out steady for the JV girls and earned a second-place finish in 23:50.7 with teammate Heidi Williams just three seconds behind in third. Kelsie Siedlik finished 9th, Corri Pelzer 26th and Erin Wendt 28th. The JV girls also came out third as a team.
"
It was really muddy, wet, slick and sticky."
— Jackson Mullin
Even with the course taking a beating from three previous races, the JV boys made the best of it with high spirits and a positive attitude. "It was really muddy, wet, slick and sticky. It was fun though," said junior Jackson Mullin. A pre-race chant of "JV, JV, JV" coming from all teams seemed to put the runners in an even better mood to end the day. The top seven finishers for the boys included junior Max Bateman in 12th with a time of 20:49.6, Clayton Jipsen in 34th, Caleb Spurr 38th, Isaac Altman 41st, Ben Andersen 49th, Drew Engler 57th and Tyler Roenfeld 61st, earning the boys a sixth-place finish. Several boys also lost shoes during this race due to the large quantity of mud they were forced to run through, two of which were Trojans. Senior Caine Page and freshman Draven Berry each completed the race with only one shoe but were both able to find the match to complete the pair again. "It tells you a lot about your kids when they lose a shoe and will continue to run the race without it," Vargason said.
The runners will be back in action again Tuesday, Sept. 11 at AHSTW, races starting at 5 p.m.

About the Contributors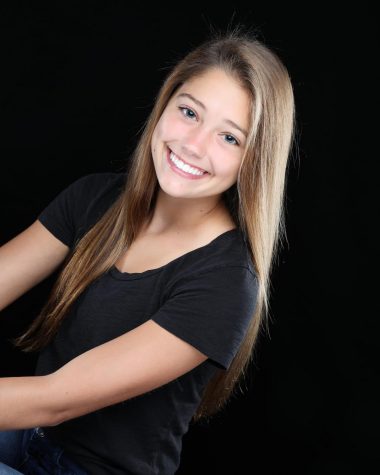 Ashley Wendt, Lead Editor
Journalism is a family affair for the Wendts, as Ashley Wendt's siblings got her involved in Journalism. Her brother Trevor was the first to join and he was the producer of Eye of the Needle during the 2017-18 school year. Wendt's twin sister Erin was the next to join during her sophomore year. Wendt is one of the lead editors of AHSneedle, so her job is to assign stories to the reporters and edit the stories they write. Her favorite part of journalism is "seeing the finished products" and what others can do. Her most memorable moment in journalism is when she went to a summer camp at Drake University, where she attended a web design class that she thought was "super helpful." In her free time, Wendt enjoys going on walks with her family and riding her horses. She is also out for cross country, starting her running career in seventh grade. She said she joined because her mom ran and she "wanted to be just like her."
Story by Madison Botos and Braden Smith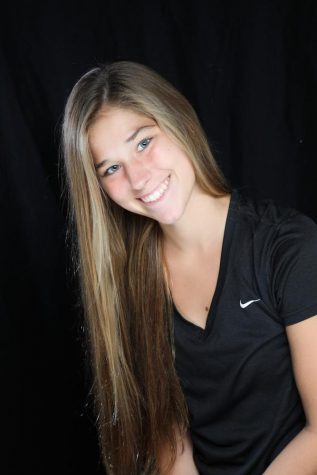 Erin Wendt, Business Manager/Editor
Junior Erin Wendt is one of the two business managers for the AHS journalism department. She also occasionally writes stories for AHSneedle, and her favorite stories are the "Getting to Know the Class of 2017" articles. Wendt said she loves the "independence" of journalism and being able to choose what you do, like broadcasting or yearbook, as well as what she wants to write about. Her favorite memory in journalism so far has been participating in the Media Now camp at Drake University this past summer, where she learned a lot about writing stories as well as meeting many new people.
Wendt has been involved in cross country and soccer so far in high school and has joined FFA this year. Wendt enjoys the "atmosphere during cross country" and how everyone can relate to each other, because no matter if you're JV or varsity, "everyone is giving their best effort." Wendt's favorite thing about soccer is the overall attitude of the team. She said, "Even though we don't have winning seasons, we still make the most out of it and have fun." She is also is looking forward to making some memorable moments in her first year of FFA.
Wendt says her twin sister Ashley knows her best, and she enjoys "chilling on the couch" on her phone, or riding horses with her mom and sister. If her friends had to describe her, they would probably say that she's good at making cookies and the "mom' of the group. They might also say she's quiet because she said she doesn't "talk a lot when we're hanging out in groups."
Wendt would describe herself as quiet and nice, but her sister might disagree with that at times. She also says that she goes to her room for a calming place because "I can be alone." Something that she would never change about herself is her personality.
Profile written by: Ashley Wendt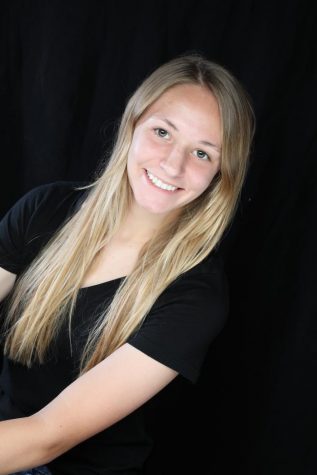 Halsey Bailey, EON Anchor, Business Manager
Halsey Bailey is a junior at Atlantic High School. She is a business manager for AHS Journalism as well as the Fine Arts Anchor for Eye of the Needle. "I enjoy broadcasting and the behind-the-scenes like behind the camera stuff." She is most proud of writing senior spotlights and directing a video about tattoos. Bailey is also involved in cross country, basketball, soccer, Spanish club and FFA. Her perfect relaxing afternoon would be, "staying at home, drinking coffee from one to three and watching Netflix or 'Harry Potter.'"
Most people believe Bailey is an only child but she has a younger brother named Jonathan. She roots for "Iowa Hawkeyes all the way" and Chiefs for the professional league. She says her parents know her best and she looks up to "my older cousins who are out of college and are doing good." "Organized and happy" are two words she uses to describe herself. If she could only eat one food for a year, her choice would be soup. "I would never give away all of my Harry Potter possessions," Bailey said.
The last thing she baked or cooked was Monster cookies "two or three days ago" with her dad in their kitchen.  "If I could acquire a talent, it would be a singing talent because I suck at singing," she said.
Bailey would never dye her hair because that's the one quality about herself she would never change. Finally, Bailey's phone wallpaper is, "a picture of my mom's flowers I took" and it matches her phone case. Bailey hopes for a great next two years of journalism.
Profile written by: Katie Saluk and Pluma Pross