Getting to Know the Class of 2018: Mycala Kickland
Senior Spotlight featuring Mycala Kickland
Ever since Mycala Kickland was five years old she has been in the water. Kickland started swimming because her parents wanted her to learn the skill so they had her join swim team. "I became good at it and have been in it ever since," Kickland said.
Kickland has swum for the YMCA Flying Sharks and the AHS swim team. When she was younger, Kickland swam at State for the Flying Sharks multiple times. Her relay teams broke several 200-freestyle records and Kickland herself also broke the 50-freestyle record.
During her high school swimming career, Kickland made it to State in each of her events since her freshman year. Dean Junker has been her coach since she started swimming and Kickland said, "He is the only reason I'm still out."
Going out to eat every Wednesday with Cambry Miller, Jessica Hartwig and Anna Lowary was something Kickland looked forward to every week. Kickland said her teammates made swimming "fun and enjoyable," and she loved to be on relays. She has a special handshake with the girls on her relay for good luck and said, "My favorite handshake is with Anna."
Spending the night in hotels before a swim meet is another thing Kickland likes to do with her teammates. "I like going shopping, eating, and just hanging out with them at the pool," Kickland said. Team nights are her favorite part of swimming because "the food is really good and we sometimes do different activities." Kickland enjoys hanging out with her teammates and having fun.
Swimming has been part of Kickland's life for a substantial amount of time, and she said she became "tired of it" over the past four years but she liked being able to see her teammates "every day, twice a day." "It has been really hard mentally trying to complete my workouts because it is so boring to me, staring at the bottom of the pool for hours at a time," Kickland said. However, she is glad she did it and said it kept her in "really good shape."
About the Writer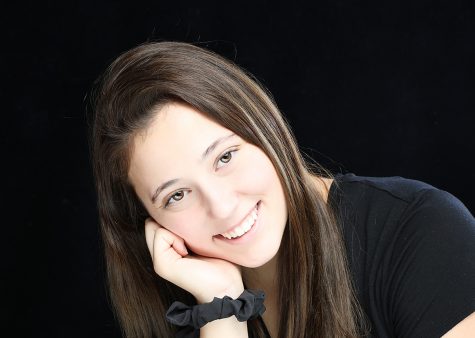 Anna Lowary, Social Media Editor
Junior Annamaria Lowary has been involved in journalism since her sophomore year, which is when the class is first offered to students. Lowary creates...