Brian Church Takes on his First Semester as an Iowa Western Teacher
Hang on for a minute...we're trying to find some more stories you might like.
Brian Church of Atlantic, Iowa, has begun teaching the Design Technology program at Iowa Western Community College. "I was unemployed after being laid off by Plastic Professionals, and I was looking for a job. I saw a job opportunity that was a change of pace and out of my comfort zone. I have always wanted to help students achieve their success, and help them with their life long goals," Brian Church said.
Some students of AHS have wondered what the Design Technology Program is about. "The program helps to teach students to become designers in manufacturing. I want to help them become engineers. I want my students to use the skills I give them to go out into the workforce and be successful," Church said. The Design Technology program helps students get hands-on work with different types of machinery, and they can make or create their own designs. It is a way for the students to expand their brain.
Within the Design Technology program, there are some positives and negatives that go along with it. "There are some positives and negatives that can go along with the program. Some of the negatives are, when students don't show up to class or turn their homework in. That is very frustrating, because if students don't show up to class, who's to say that they won't act the same way when they go into the workforce? Some of the positives are that I get to teach students everyday and it makes me happy to see my students achieve. It also helps me relearn some of the things that I learned in college. It is a great program, because it is a four year program, but they take the program in two years. It also helps me get out of my comfort zone," Church said.
Students have given their thoughts or opinions on the program. "I have not heard of the Design Technology Program at Iowa Western, but I would consider taking it. I would probably design parts and test them out," freshman Zach Colton said. "I have not heard of the program, but I would consider taking it. I think it would consist of making parts, and it would take computers and machinery to do so," senior Dillon Sonntag said. Students have different thoughts and opinions about the program, but the program is available to anyone who is interested in designing things, or becoming an engineer. Check out Iowa Western's website for more information.
"I tell my students to get their homework done, and that there are jobs available, because they have to do an internship between the first and second semester. The students have to work there for three months. My favorite class is CAD class (Computer aided Design/Drafting), because it is where we take molds and we print things in 3D, and it is hands-on learning for the students," Church said.
The Design Technology Program at Iowa Western isn't quite what Brian Church expected to be doing when he was working at Plastic Professionals, but he is glad that he took the job, because it is a fun experience for him.

About the Writers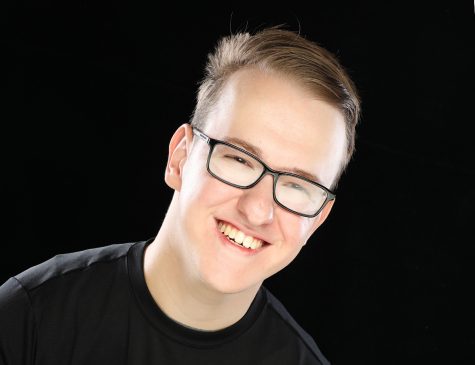 Connor Church, AHS Needle Editor
Connor (Churchy) Church, is a senior at Atlantic Highschool. He said he got into journalism from "people telling (him) to get into it to write the sports...