Girls' Basketball Preview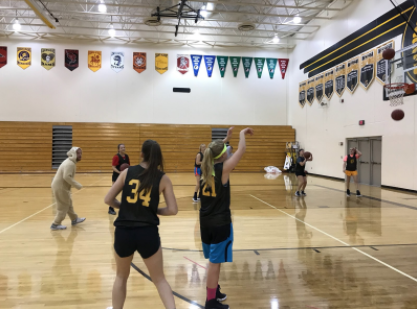 Hang on for a minute...we're trying to find some more stories you might like.
The Atlantic girls' basketball team began practice on Monday, Nov. 6. The team is looking to improve upon their previous 2-20 record with guidance and direction from head coach Kelly Juhl and assistant coaches Daniel Vargason and Craig Fredin. "We want to have more of a full court defense and fast break team this year," Juhl said.
The team has worked to polish up their skills by weight training in the summer, participating in a fall basketball league in Carroll, and coming in to shoot in the mornings. "I am looking forward to being in the gym and being around the girls. It's fun," Juhl said. "We will play 21 regular season games, with the first game being on Nov. 20 in Carroll against the tigers."
Seniors on the team this year are Ally Anderson, Cheyenne Elliott, Haley Engler, and Riley Seufert. "I have been playing basketball since seventh grade and I can't wait to have a great senior season," Seufert said.
However, it is not just the seniors looking forward to a great season. Freshman Haley Rasmussen is looking forward to playing games and doing what she loves. "The players are more encouraging in high school basketball," Rasmussen said.
22 girls attended the informational basketball meeting on Monday, Oct. 23 at 3:30 after school in Mr. Vargason's classroom. The numbers have dropped to 18 since the season began. At the meeting, the girls discussed schedules for the season. The players were also given personal player evaluation worksheets. At after the meeting, coach Juhl was brainstorming personal goals. "A goal for myself this year would be to get more referees to like me more by less rampages," Juhl said.
Junior Baylee Newell gave some information on how the team could reach the intended plan on having a more prosperous season. She said that it would benefit the team if they accomplished a, .500 average or better for wins.
Juhl said that the girls' toughest opponent this year would be the Lewis Central Titans coming off of a 22-2 record. "They are returning some good athletes and good scorers. They are also defending Hawkeye 10 champions," Juhl said.
On Nov. 21, the Trojans will host the Denison Monarchs on their home court at 7:30 p.m. The team will be showcasing what they have been working on for the past two weeks.  Everyone come out and support the girls as they begin their road to success.