Getting to Know the Class of 2017: Kylee Champlin
Senior spotlight featuring Kylee Champlin.
Hang on for a minute...we're trying to find some more stories you might like.
Most seniors spend their free periods doing homework, but for Kylee Champlin, this is not the case. As part of her multi occupations class, Champlin works for choir director Jennifer Gaesser as a teacher's assistant.
"(Gaesser) confronted me about wanting some help," Champlin said. "She mentioned that she trusted me." So when Gaesser asked for Champlin's help, she agreed. As part of the class, she works at least 15 hours a week and takes a class at the high school. As part of her job, she runs errands, makes copies, and runs different items between buildings.
While choir is her favorite high school activity, she has also participated in basketball (manager 9,10,11), student council (9,12), NHS (11,12), and a member of the musical crew (11,12).
Although Champlin does not plan on pursuing a career in the music field, she said the opportunity has given her insight and better perspective on future employment. Champlin plans to plans to attend college and major in psychology and become either a school psychiatrist or a teacher. She decided on psychology after she took a psychology class with Wiley. "I became really interested with all the aspects of it. I've always wanted to help people, but also be in a school setting."
"Do all of your homework and do it well," Champlin advises under classmen. "Do everything you can to succeed in high school. Get involved because it does go by very fast. I know that's said a lot, but I swear yesterday it was the first day of freshmen year and now here I am." And as band director Jarrod O'Donnell taught her, "What happens in the band room, stays in the band room; even if you're not in band."

About the Writer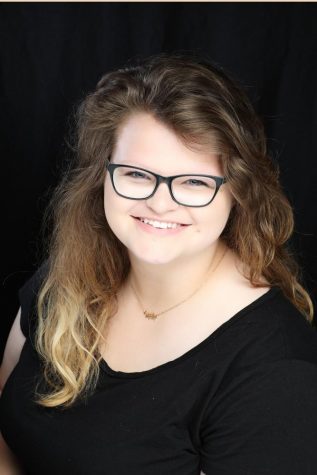 Sarah Schorle, Javlin Junior Editor in Chief
Junior Javelin Editor-in-Chief takes a lot of work for Sarah Schorle. Her favorite aspect in journalism is being able to work independently, but also together to create "one big vision." A project she is most proud of is setting up Trojan Tries for the Eye of the Needle. In addition to journalism, her activities include...