Girls Golf Wins the Trojan Invitational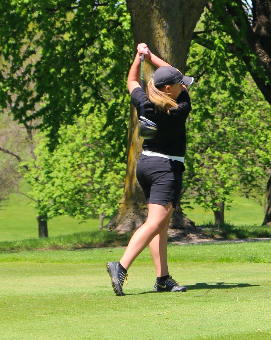 Hang on for a minute...we're trying to find some more stories you might like.
On Tuesday, May 2 the girls golf team won the Trojan Invitational at Nishna Hills Golf Course. They won with a score of 331 defeating 12 other teams. The team closest to the Trojans was the Knights of Kuemper who finished 44 strokes behind.
The Trojans were led once again by senior Brooke Newell who shot a 74 and was the medalists. Junior Alyssa Ginther placed second shooting an 83. Other key scores were junior Baylee Newell and senior McKenna DenBeste who shot 85 and 89 respectively.
Coach Kathy Hobson said "This was a great team victory for us as we head into our tournament season leading up to regionals" Hobson was very impressed the way DenBeste played, she said "she shot lights out on the front" and ended up shooting an 89 total.
Some improvement Hobson would like to see is in their short game. She said "As we move forward, our short game still needs improvement.  We need to continue to improve on our chipping and approach shots to the green.  We don't give us good opportunities on our first putts to make them."
The Trojans next outing is Wednesday May 3 in Sioux City. Hobson said it is good for the girls to play back to back 18 hole tournaments that are competitive.