FFA State Convention Recap
Eighteen Trojans excel at ISU event.
2016 AHS graduate Haley Carlson ran for State office at the annual FFA convention in Ames, April 9-11. Although she did not make the final ballot, it is a leadership accomplishment to run for office. Eighteen Atlantic FFA members traveled to the 89th Annual Iowa state FFA Leadership Conference.
On Sunday, FFA member took part in Meals from the Heartland, packing meals containing soy, vegetables, vitamins, and rice in a bag. Then the bags were weighed, sealed and packaged to be distributed across Iowa, the United States, and the world, according to the Meals from the Heartland website.
On Monday Morning Emily Saeugling was on the Auditing Committee and Alexis Boes was on the Program of Activities Committee.
Saeugling and Katie York were delegates.
Boes signed her letter of intent to teach Agricultural Education.
Carly Westphalen and Boes received a gold for Chapter Program.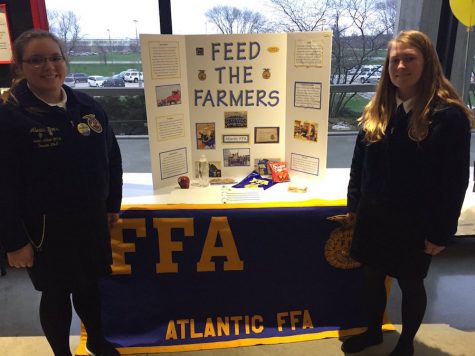 On Tuesday morning Tate Den Beste and Corri Pelzer took the Greenhand quiz. Den Beste earned a Silver and Pelzer earned a Bronze.
The team of Braden Bean, Josh Rossell, Nate Moen, and Lexi Freund placed 16 in the Farm Business Management test.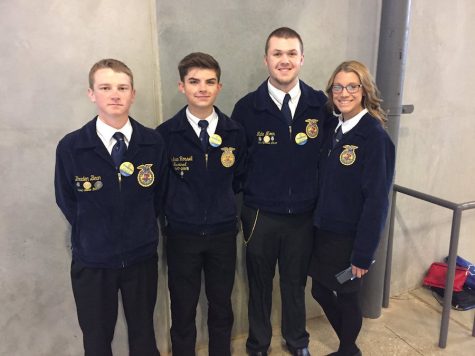 Hannah Richter and York played in the Iowa FFA state band.
Westphalen, Morgan Barkley, Boes, Colby Sorensen, Moen, and L. Freund received their Iowa Degrees.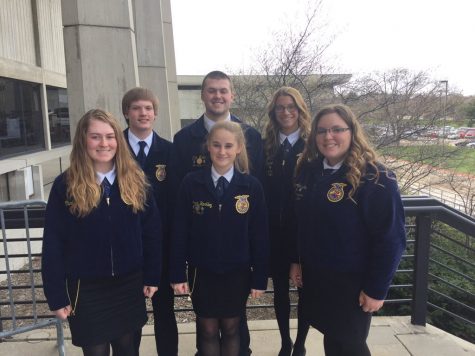 Cody McCreedy placed second in Specialized Animal Proficiency. Cale Pellet placed in Diversified crop production.
"I thought it was a fun and enriching experience to be able to come and participate in the competitions in Ames," Sentinel Josh Rossell said. "The sessions there were also very interesting with the basketball player and the governor speaking. I met so many new people there this year and hope to go back again next year."
"State Convention was very fun, however, the sessions were pretty long. Overall, it was a fun experience, and we had multiple achievements to celebrate," Student Advisor Tyler Comes said.
"State Convention is a great opportunity to meet up with FFA members across the state as well as find ideas to bring back to your chapter!" Vice President Emily Saeugling said.
"I was very happy with the results of state convention this year," FFA Advisor Eric Miller said.   "I am proud that our Chapter Program and Farm Business Management teams received Gold this year. We will also miss the leadership of our 6 seniors that received their Iowa FFA Degrees."