Girls' Track Competes at Iowa Western
The girls varsity track team traveled to Iowa Western to compete in a Lewis Central hosted meet.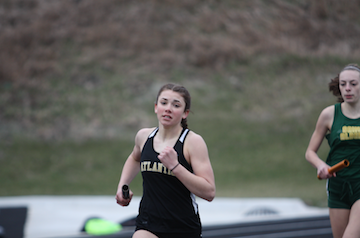 Hang on for a minute...we're trying to find some more stories you might like.
Tuesday, April, 18th. The Atlantic girls varsity track team traveled to Council Bluffs to compete in the Lewis Central Co-Ed track meet.
The sprint medley consisted of Juniors Sydney Bean, Charity Williams, Jessie Hartwig and freshman Aleigh Bean ran a time of 2:02.16 which let them finish in 7th place. Junior Emily Seugling finished 10th with a time of 13:20.90. The 4×800 relay made up of Juniors Abby Altman, Riley Seufert, Sophomore Karsyn Rush and freshman Pluma Pross finished 8th and set a personal record as a relay with a time of 10:58.07. The 4×100 shuttle hurdle made up of Seniors Bailey Schildberg and Madelyn Kickland, Junior Morgan Altman and freshman Anna Lowary finished 5th with a time of 1:14.53. Williams finished 12th with a time of 13.97 in the 100m dash.
Schildberg, Juniors Kylie Proehl, Cora Zikuda and freshman Grace Bruckner finished 11th in the distance medley with a time of 5:16.96. Senior Lexi Freund finished 6th in the 400m dash with a time of 1:07.86. In the 4×200 relay Hartwig, Williams, Kickland and Aleigh Bean put forth a time of 1:55.39 which is the relays personal record, and also placed them in 9th place. Schildberg placed 14th with a time of 19.35 in the 100m hurdles. Rush ran a time of 2:35.71 in the 800m run which got her to 6th place. Aleigh Bean finished 15th in the 200m with a time of 30.18. In the 400m hurdles Lowary finished in 11th place with a time of 1:18.02. In the 1500m Seugling ran a time of 5:50.35 and finished 15th. The 4x100m relay Williams, Bean, Kickland and Bruckner finished with a time of 55.60 and ended in 10th place. Rush, Freund, Hartwig and Pross finished in 6th with a time of 4:32.57.
In the long jump for the girls Aleigh Bean placed 6th with a jump of 14-06.00. In the discus throw Junior Cheyenne Elliott placed 10th with a throw of 91-00. In the high Jump Senior Alexis Brockman tied for 5th with a height of 4-08.00. In the shot put Junior Sidney Svoboda placed 10th with a throw of 31-07.00.

The girls varsity track team will compete next at Carroll on Thursday, Apr. 20.