Getting to Know the Class of 2017: Hannah Richter
Senior spotlight featuring Hannah Richter.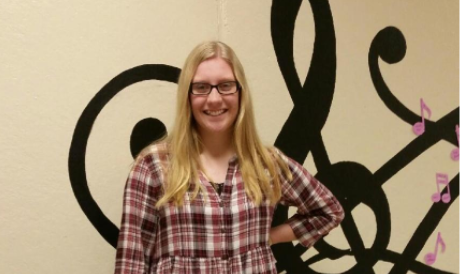 Hang on for a minute...we're trying to find some more stories you might like.
While Hannah Richter has been in high school, she has participated in volleyball (9-12), band (9-12), choir (9-12), speech (9-12), All State Band (12) and SWIBA (9-11). "My favorite activity in high school was Band," Richter said.
Richter said her most memorable time while she has been in high school was when she found out she made All-State Band. Richter went go to Ames, Iowa for the All-State Band in Nov. 2016. Her most memorable moment of her life so far was when she made the Southwest Iowa Bandmasters Association Honor Band her seventh grade year.
If Richter could have a do-over, she said she would like to have taped the bottom two pieces of her clarinet to the top half of her clarinet, so that it didn't fall off right before she went into her All-State recall audition last year.
Richter's role models are two of her band directors, Mr. O'Donnell and Ms. Dake, and her Mom. "My mom is not afraid to say what she thinks," Richter said.
Richter lives with her parents Brian (dad), Jennifer (mom), Abbigael (11), Madeline (9) and dog (Buckleigh). Richter's most memorable family memory is when her they got stranded in Minden after getting Buckleigh. "We were on the way back home on the interstate when my dad heard a noise in the jeep, so we stopped and could not get started again so we had to call my uncle to come pick us up," Richter said.
When Richter was a little girl, she wanted to grow up and became a famous singer. Richter's future plans are to go to Northwest Missouri State to major in either music or agriculture, or "maybe both." "I wanted to do the two things that I love, which are music and agriculture," Richter said.