Boys Head To Iowa State For First Track Meet
Reed places 9th out 143 in 60m dash.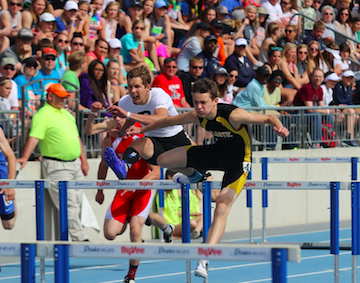 Hang on for a minute...we're trying to find some more stories you might like.
The boys' track team traveled up to Ames on March 14 to run at the indoor Iowa State track. The team took only six runners to the fact that the wrestlers and basketball players started later in the preseason practices because both sports went to State, extending their seasons.
Zeke Whetstone, Phoenix Shadden, Bradley Dennis, Gratt Reed, Drake Roller and Ethan Halterman went to the competition with Coach Jenkins and assistant coach Jordan Mullin.
Freshman Bradley Dennis had a good day, getting a 10:25.75 in the 3200. Senior Phoenix Shadden ran a time of 10:27.59. The boys have been competing with each other since the beginning of cross country season.
Junior Gratt Reed ran the 60m dash, getting a time of 7.38 seconds, placing 9th out of 143 runners. Reed also competed in 60m hurdles. Reed ran a time of 8.34 seconds. Reed has been a strong leg for the boys' hurdles team since his freshman year. He also ran in the 400m dash placing 15th with a time of 52.59.
Junior Zeke Whetstone also competed in the 400m dash and 60m dash. He placed 39th in the 400m dash with a time of 54.32, and 100th in the 60m dash with a time of 7.89.
Senior Drake Roller ran in the 60m hurdles with a time of 9.35 placing 43rd. Roller is making a comeback this season from when he tore his hamstring at Clarinda last year during the 4×100, ending his season early and the boys' chance of returning to State with the shuttle hurdle relay team.
Junior Ethan Halterman ran in the distance medley. The distance medley included Reed, Whetstone, Halterman, and Dennis. The boys placed 4th in their heat but did not place overall.
The boys will travel to Central college on March 17th for their last indoor meet of the season.