Strapping Speech Weekend
Speech team advances 7 groups to State.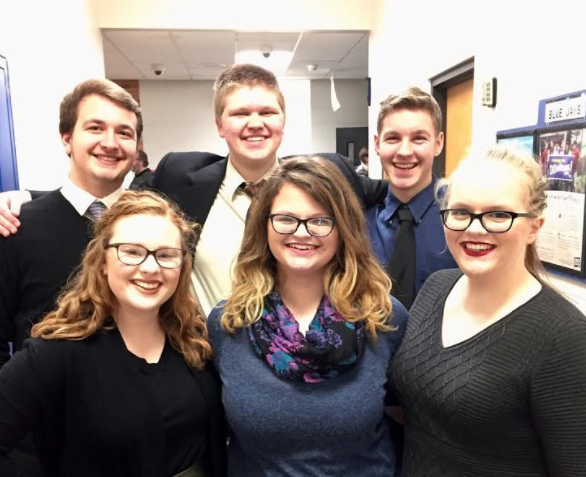 Hang on for a minute...we're trying to find some more stories you might like.
On Saturday Jan 21, 18 students traveled to Perry High School to compete in the IHSSA District Large Group competition. The team brought a total of 10 events with 7 of the 10 events moving on to the State competition. Events moving on include several mimes, ensemble acting, radio broadcasting and musical theatre.
"I thought it went pretty well," co-coach Alexander Bales said. "It's so hard to tell because it depends a lot on the judge you get. We're taking as many to state as we did to districts last year which is definitely something to be happy about." This was Bales' second year as a speech coach in Atlantic.
At the district level, events competing perform in front of a judge to receive a rating (I being the highest and III being the lowest). Judges give feedback to the students in the room before the ratings are posted in a central location such as a gym or lunch room. In order to move on to the state level, students must earn a I rating. The state level is similar, however there are three judges instead of one and All State events are selected from those who receive a I rating. This means that a group could receive a I from all three judges, but still not advance to the All State competition.
"It changed my view in the way of competition," senior Trinity Zynda said about her first experience as a student coach. Zynda, an All-State mime participant, coached two solo mimes this year. "Before I had strived to see myself succeed and only myself when it came to Mime, but now, seeing what other kids put into it and seeing my own girls put as much effort into it as they can helped me realize that it's more than just a competition against those in the state, but it's a competition [against] yourself. […] Watching the evolution of other mimes get to that next step is fantastic."
This was the first year not competing for Zynda. "It was a little heartbreaking to not perform, after Districts I had missed the feeling of the anticipation while the timer had given off the speech about what you can't do during a performance, the jitters of performing and the feeling of 'I just did that' when you talk to the Judge about the performance. Watching them succeed was one of the best feelings in the world. Better than competing at All-State."
The state-level competition will be held on Feb 4 at West Des Moines Valley High School in Des Moines.

About the Writer
Sarah Schorle, Editor in Chief
From looking at the middle school and high school yearbooks, Sarah Schorle has had a passion for journalism for a while. Schorle is one of the co-editors...