Key Pins Seal Win at Glenwood
Trojan Wrestling places first at Glenwood wrestling meet.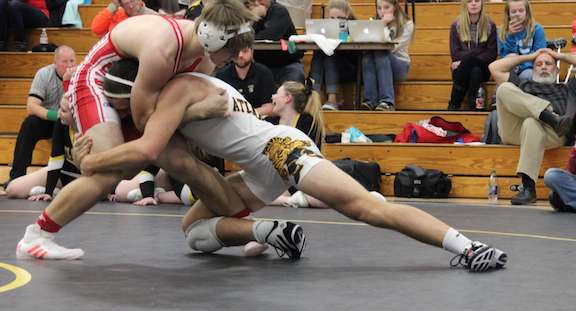 Thursday, Jan. 19, the wrestling team came home with a big win after beating Glenwood 42-30.
The Trojans finished with six pins and three wins by total points. Coach Duff and the rest of the coaching staff was very pleased with the performance and effort of the team. A few wrestlers that Duff said wrestled exceptionally well were freshman Aybren Moore and junior Colton Mudd. Those two came in clutch in some very close matches that ultimately changed the meet. Duff said the wrestlers "came through big time for the team in a couple of close battles."
After winning at Glenwood, the team went to John J. Harris meet the next day. Coach Duff has stressed to the wrestlers this season that the most important part of the year is the post-season and that is where you are ultimately judged and remembered.  "Everything is practice until then,  so we need to keep improving," Duff said.
Coach Duff has his eyes set on the State Tournament. The team goal from this point on is to "Win a team trophy at the Traditional State Tournament. We have to keep preparing to wrestle our best when it counts!"