Six New Teachers at AHS.
Learn a little more about the six new teachers here at AHS and their personalities.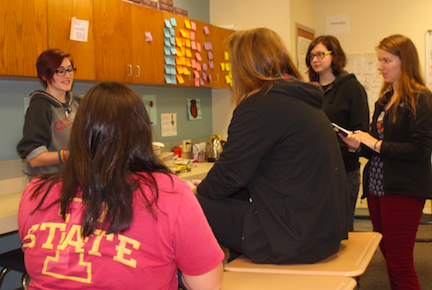 Hang on for a minute...we're trying to find some more stories you might like.
NEW TEACHERS – Have you ever initiated something new that you will advance in throughout the years to come? These new teachers at Atlantic High School have. You may know them as Mr. Sherman, Ms. Lipp, Mr. Weber, Mrs. Sonntag, Mr. Henderson, and Mr. Walter. These six teachers all began teaching in the Atlantic Community School District this year. They came in prepared and ready to teach the students in the Atlantic High School.Four of the teachers came to AHS after teaching in other districts, but Rachelle Lipp and Tucker Weber came fresh out of college. They both went to college at the University of Northern Iowa. Jedd Sherman, Lisa Sonntag, Ryan Henderson, and Jade Walter have all taught in different school districts.
PRINCIPAL VS. TEACHER – Before coming to Atlantic High School, Jedd Sherman taught at the Saint Albert School District. Prior to that he was a principal at Red Oak High School, Spirit Lake High School, and Walnut High School. "Being a teacher is just an outright reminder that the principal's job is mostly all drama," Sherman said. Being a principal is different than being a chemistry teacher. "It's like being retired, and I'm not saying that work is light. Before school kids come in for help and even after school. I'm busy but it's a very positive busy, and there's no one yelling, cursing, or acting immaturely," Sherman said.
Most teachers don't have a lot of free time, but when Sherman does, he likes spending time with his three kids. "When I'm not doing something for work, then I'm focused on my kids," Sherman said. Recently his daughter went to All-State and his son had a homecoming concert with his band in college. His wife runs the Wilson Performing Arts Center, where they had recently performed the Addams Family musical. Sherman also has two pets, a dog named Skipper and a cat named Louie.
When Sherman was younger, he had no intention to be a teacher at all. "At the time when someone asks you what your first impression was, it wasn't teaching. By the time I graduated high school, I was like 'who wanted to be a teacher?' It happened after I spent time at a different career, which was banking for five years. So, someone said you know, I think you should consider being a teacher. That teacher who worked part-time at the bank was an encouragement to look into it, so the rest was history," Sherman said.
Surely everyone has something that inspires them to wake up in the morning, and no, not the alarm clock. Sherman believes that there is always something meaningful that has to be done. "Even if it's Wednesday and having shorter periods," Sherman said. On a recent Wednesday, his physics class worked on their rocket projects and advanced chemistry went over mothballs that a had a mystery substance. "We did a problem solving and an m&m activity with isotopes," Sherman explained.
Tyson Parker commented about how he feels about Sherman. "He's a very friendly guy who's easy to get along with. He brings food for our chemistry class when we finish this game called bizz buzz without messing up." Parker continued, "He will try to help you with anything you're having trouble with, as long as you try to do it yourself first."
THE ACCOMPLISHMENTS OF A TEACHER – "Obviously this is my first year teaching, I've accomplished so much, just in general when I thought about teaching I didn't really take into account the extra things that go into it like grading and planning," Rachelle Lipp said. Lipp is the newest addition to the AHS English department. She teaches English 2, Creative Writing, and American Literature.
College doesn't prepare you for everything you'll be doing in your career. Lipp wishes she learned how to deal with students who aren't in her classroom to learn. "The difference between students who are in your classroom because they have to be there and students that are in your classroom because they want to learn," Lipp continued. "Also for students who don't behave appropriately for a classroom. I wish I would've learned more about that but it's really difficult with my type of personality because I have a gentle soul," Lipp said.
According to Edutopia, finding a mentor in your first year of teaching can be really helpful. "I have some awesome people in my English department, so they're really helping me and building me up to become a better educator. Even when I ask stupid questions, they pretend they aren't stupid and answer them anyway," Lipp said.
While you're teaching you're still learning. Lipp learns every single day. She learned that a lesson has to be pretty straightforward, otherwise, it won't succeed. Through teaching, she also learned more about herself, even in difficult times, "I like how I am able to think on my feet even if it doesn't seem like it up there," Lipp said. She has also learned about the content as well, "like what makes a resume great," Lipp explained.
Teachers are humans too, they to have a personal life. "This has been one of my favorite songs since high school because my friends and I would always sing it, it's by Ingrid Michaelson and it's called 'You and I,'" Lipp described. She attended the University of Northern Iowa, "I went to the college of UNI, so it's kind of funny," Lipp laughed. Also, she doesn't have any pets, and if she were to get a pet it would have to be a fish.
Erchina Mark commented about Rachelle Lipp and her new teaching skills. "I love her. Even though she's a new teacher and all, she's probably one of my favorites," Mark thinks of her as a really nice person. She also likes the way she teaches. "It's not like too much or too little. Ya know? It's easier to understand. Also the fact she's always happy and has a smile on her face, every day is a plus. She's most definitely one of the nicest people I know," Mark said.
EIGHT CLASSES A DAY, TWO DIFFERENT SUBJECTS – Tucker Weber is a new Health and Physical Education teacher in AHS. "So far I have accomplished everything but one chapter for my health class, and everything I have wanted to accomplish for physical education," Weber clarified. He said he has done a good job keeping up with his lesson plans and things are going as planned.
Several new teachers most likely will change their plans, from first semester to second semester. "Next semester I will change a few things such as using notes on every test to maybe start off using notes on the first test, then no notes after that." Weber commented on his physical education classes as well. "People who have unexcused absences will not get a chance to make their grade up for that class period. It will go in as a zero," Weber finished.
In everyday life, we grow connections with many different people, whether it be good or bad. Weber's favorite part about his first year teaching has been the connections he has built with multiple students, "I love knowing what students enjoy doing inside and outside of school and also being a resource for students that want to talk about personable aspects of their life," Weber explained
According to Inspire 21, inspiration is key to having a great year of teaching. "The students inspire me to wake up every day. When I wake up I always think about what I can teach students, not just in school but life lessons as well," said Weber. "Sometimes school isn't just about the content, but also teaching life lessons such as time management and being a respectful human being," He explained.
He believes next year will go a lot smoother. "Since I have already taught the content once I will have a better idea of what worked and what didn't and I can build my lessons and try and make them better for the students," Weber said.
"Mr. Weber is a new teacher and when I first had his class, he was just really cool," Colissa Wheeler said. She thinks that he made a great first impression and was pretty funny. "He makes boring subjects fun and I like that a lot. I am in his study hall, and after the first ten minutes, he's pretty cool. He rarely raises his voice and handles situations well," Wheeler said.
THE TEACHER-MOM LIFE – Lisa Sonntag has four kids. "They're Mckenna who is 10 and is in fourth grade, Adilyn is 7 and is in second grade, Chloe is 5 and is in kindergarten, and Easton who is 6 months," Sonntag continued. "Easton never lets me sleep in past 5 a.m. But, I'm a very laid back person and I don't feel stressed. You just get up, go about your day, and do what you have to do," Sonntag said.
Sonntag graduated from Atlantic in 2001 and went to college at Central College until 2005. From teaching this year in Atlantic, Sonntag has learned a new curriculum. "I have never taught Geometry before, so it was new," Sonntag said. Before coming to Atlantic, she taught in Red Oak for eight years, and then went to Winterset for three, where she taught Algebra.
Sonntag gives a lot of credit to teacher Sheila Hayden for being her inspiration to becoming a teacher. "I had her as a math teacher and in several different classes and I loved it. I loved math and I always knew I wanted to teach," Sonntag continued. "I actually have a degree in Social Science, American History, Psychology, Sociology, and Math because I didn't know what avenue I wanted to fall into," Sonntag said.
Sonntag loves teaching in Atlantic. "It's just fun to be back where I went to school and be on the opposite end of sides. It's fun to see a lot of the teachers I had and at the same time, it's really weird because when you walk in the hall and see a lot of the teachers you had, you go back to the role of 'I'm a student,' you know? And not being on the same playing field as they are," Sonntag continued. "We are close to family also, so that's nice," Sonntag said.
According to Education world, there are various ways that a teacher can learn from their first year of teaching at a new school. Sonntag's is that kids are kids and they are going to make mistakes. "You always have this perfect vision in your head of how things are going to happen and obviously, there's just one of me and twenty-five of you. I can only control one of you and I think you just have to roll with it and keep moving," Sonntag said.
         One of the most challenging moments in a class for Sonntag is when she has a student refuse to do things. "You know that they're very bright and intelligent and they just don't show it," Sonntag continued. "It's very frustrating because there are so many kids that I see every day that don't have necessarily natural talent and ability and then try and work their butts off so hard. Then, you're dealing with kids who have it and just don't do it," Sonntag said. She thinks it's very hard.
Sabrina Fineran likes Sonntag. "I like her because you can like be working on homework and we can all be talking about random things. She tells a lot about herself and about her family," said Fineran. To Fineran, it makes her have a better relationship when Sonntag doesn't always talk about school. "She's like a teacher mom. If you need to talk to her about anything, she will be there to help," Fineran said.
HARDWORKING GYM TEACHER – Ryan Henderson is a new gym teacher this year at Atlantic High School. "My inspiration was my own PE teachers and coaches that I had growing up," Henderson said. He has accomplished a new routine for how his class is organized and works. From teaching, he has learned patience.
Henderson's most challenging moment in a class is when people are lazy and don't want to do anything. "Those days where everyone is just feeling sluggish and tired and not really wanting to participate. It's really a hard moment for me," Henderson said. In his free time, he likes to spend time going to sporting events or watching them on T.V. Also, hanging out with his friends and family.
Henderson's favorite part of first semester was seeing progress and understanding it from the students. Since the time he has been teaching in Atlantic, he's really liked teaching. "I like the community feeling around the school and how everyone works together," Henderson said. His biggest regret so far was getting caught up in giving students the most time to participate that he doesn't take time needed to fully explain how things need to be done.
Henderson never thought of being a teacher when he was younger. "I was one of those kids that always thought they were going to play professional sports. The thought of being a teacher did not occur to me until I was a senior in high school and I didn't have a strong belief that was what I wanted to do. About my sophomore year of college was when I was fully committed," Henderson said.
Hannah Anstey is one of many students that are in Henderson's gym class. "I like Mr. Henderson. I like that he actually plays games with us in gym instead of just sitting out and watching. He's a more laid back teacher also," Anstey said.
WORKING WITH HANDS – This is Jade Walter's first year in Atlantic. Walter has also taught at Central Decatur High School and Middle School for five years. Walter teaches shop classes. While being in Atlantic, he feels that he has accomplished getting to know all of his students. "I have been getting to know all of my students and help them to work through problems they encounter while working on their projects," Walter said.
For future references, Walter will have different classes second semester. They'll be working on different projects in the shop. He finds the most challenging moment in a class is having to problem solve on how to fix mistakes with projects.
Walter likes working in Atlantic. "All the staff and students that I have met have just been awesome," Walter said. His inspiration to becoming a shop teacher was his brother. "My brother was a shop teacher and I always seemed to enjoy teaching," Walter said.
His inspiration to wake up every day is going to work with people trying to improve themselves. On his free time, he likes to watch sports, hunt, and work on the farm. He doesn't have any pets.
Gavin Nichols commented on why he likes Jade Walter. "He's a pretty funny guy. He doesn't expect much from students except for them doing their work. Other than that he's pretty laid-back," Nichols said. If you're going to be a teacher, you might want to have an interest in what your teaching. "I wasn't ever really sure what I wanted to be, just always like working with my hands," Walter said.
Every teacher is different but is unique to students in special ways. Everyone in AHS welcomes these teachers and respects them kindly. We are very happy to have these teachers here to help us learn multiple things and hope that there future for them here will go as great as they are.