RECAP: Freshmen Boys' Basketball vs. Carroll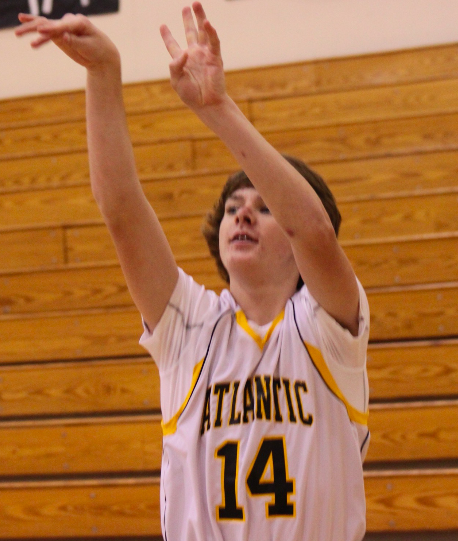 On Monday February 15, the freshman boys' basketball team squared off against the Carroll Tigers. They lost in a close one 52-51.
Coach Brandon Krause said, "I thought we played really well defensively". The Trojans changed up the defense quite a few times during the game from man to man or 2-3 zone trying to get the Tigers off their game.
The Trojans also seemed to control the tempo for most of the game, but they always were playing from only a few points down.
Krause also thought the kids competed at a high level for the entire game without letting up. The score at halftime was Carroll 23 Atlantic 16.
For the second half the game was back and forth as each team had a run for themselves for a few minutes.
As the Tigers would grew a slight lead, the Trojans never got down on themselves or their coach and just kept playing. They continued to play the way they were coached and kept the intensity up on both ends of the floor even when shots weren't falling and giving up a few buckets on the defensive end.
The Trojans also seemed to handle the ball very well and attack the basket every chance they got while getting easy buckets. Late in the game the Atlantic had to press due to being down and tried to get a few easy turnovers to try and get back in the game. Krause said, "Our full court pressure had them rattled late in the game in which gave a chance". 
It had worked and the Trojans had the ball with ten seconds left down by 1. They had one last chance to win the game.
Krause said, "We drew up a four across play on the top of the key. We executed the play to perfection that gave Jalen Petersen a chance to win the game at the end".
The ball rimmed out as the Trojans were that close to a comeback win, but fell short by only one bucket. Even when the Trojans seemed to be out of the fight, they came right back with everything they had and never gave up.
Krause said, "We have been on the end of some hard losses this season, but the fight in these young men hasn't stopped them or discouraged them from being fighters on the court".
The next game will be Thursday, Feb. 18, as the Trojans travel to Denison to take on the Monarchs.