RECAP: Freshman Boys' Basketball vs. Harlan
Trojans fall to Cyclones 48-35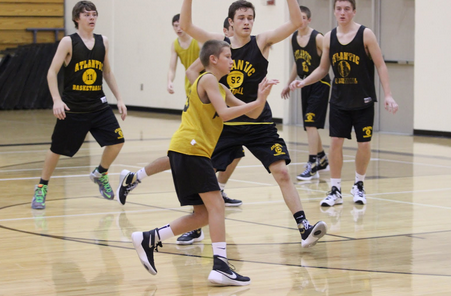 On Tuesday, Dec. 5, the freshman boys' basketball team played the Harlan Cyclones. The Trojans fought hard throughout the game, but couldn't pull through in the end, losing 48-35. Their record is now 5-3.
Freshman head coach Brandon Krause said, "I thought we played good team defense in the first half. We limited their second chance shots on the glass and did a good job of closing out on their shooters. Our patience on offense allowed us to get some great looks at the basket."
The Trojans offense kept Harlan on their heels most of the game but they could not stop the Cyclones on offense or keep them out of the driving lanes.
"Nathan Behrends and Zade Niklasen had a good defensive game and with few steals, and limited their matchup to only a few points. I thought Behrends and Niklasen did a great job of playing man-to-man defense in the first half," said Krause.
Niklasen said, "We didn't shoot the ball that well, but played good man-to-man defense to make up for our offense."
Behrends said, "We played good defense in the first half, but in the second half they started to hit shots from the arc that we weren't making."
At the end of first half both teams had been playing good defense, and neither team had shot the ball very well. The halftime score was Harlan 17 Atlantic 16.
The Trojans started out the second half slow with the Cyclones going on 9-0 run, putting them up by 10 points early in the third quarter.
The Trojans failed to handle Harlan's ball pressure and they continued to get easy shots in the lane. With the Cyclones building a reasonable lead, the Trojans failed to put the ball in the hoop at a solid rate and the Cyclones kept their lead.
That didn't stop the Trojans. Even though things weren't going their way, they didn't put their heads down and quit. Instead they fought until the end.
"They will be ready to come back and play Denison this coming Friday. These are a great group of men that have dedicated themselves to be in the gym and get better at their game," said Krause.
Sam Granner finished with 10 points along with Logan Reilly who also had 10 points.
The freshman team will take on the Denison Monarchs tomorrow, Jan. 8, at 4:30 p.m.