Christmas cards blown away
Hang on for a minute...we're trying to find some more stories you might like.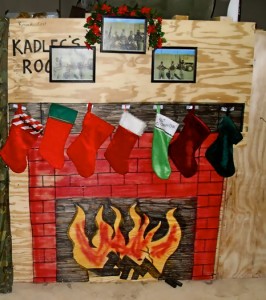 By Alyssa Askeland
The Christmas cards sent by AHS students to soldiers in Afghanistan were destroyed when a supply truck was blown up en route to its destination, according to high school art teacher Pat Wiederien.
"When I was first told about the letters being blown up," says high school art teacher Pat Wiederien, "it was no big deal, and I asked my son, Nathan, if the drivers were okay. And then when I saw the picture of their fireplace, it just made me so sad that they never got the cards."
Students at Atlantic High School wrote 65 Christmas cards to soldiers on Wiederien son's base over in Afghanistan. The cards were shipped out on Dec. 7 and were to arrive around Dec. 17.  The soldiers didn't know they would be receiving cards from the high school students.  "I think it is really disappointing that the cards were blown up because it is a simple thing to do for someone who might not get anything for Christmas and we can't control if they even get the cards or not," says junior Ian McNees
The purpose behind writing and sending the cards was to give each soldier a thank-you for the holidays.  "Some soldiers don't usually get any mail," says Wiederien.   Because the platoon did not receive cards, the students in Drawing I and II, Photography and Wiederien's Primetime plan on sending valentines to the base next month.
Click here to read the original story about the Christmas letters.