Trojans Under New Authority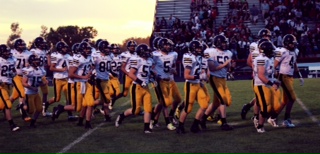 Hang on for a minute...we're trying to find some more stories you might like.
by Savannah Sorensen
As of August 4, the Atlantic Trojans football team is under the authority of head coach Eric Waldstein. This will be Waldstein's 17 season of coaching. He has previously coached at Simpson College, Cornell College, Morningside College, Harper College, Presentation College, Carthage College and South Dakota School of Mines and Technology.
Athletic director Matt Alexander said, "I think it's going well and the kids are adjusting well to the new style. It helps that the coach (Waldstein) is working well with the rest of the staff and the personnel that they have." There are approximately 45-50 boys out for football, according to Alexander. Senior Tyler Thomas said, "I think our whole team is adapting well to everything that is new this year."
Waldstein said, "The guys seem excited and are buying into what we are doing." Senior Skyler Svoboda said, "The practices are going well, our offense is still learning and the defense is looking good. We're going to be another young team this year."
As for expectations on the season, Waldstein said, "I just want the guys to play hard and play together. If they do that, the wins will come." According to Waldstein, he isn't big on goals and he isn't a 'stats guy' or a 'wins and losses guy' but the team will have weekly goals. He said, "If the guys play hard and play together, the wins, stats, and goals will take care of themselves."
Thomas said, "I want to make a run in the playoffs and make it to state."
Goals that players have include coming together as a team and winning games. Thomas said, "There's only four games left in the Trojan Bowl for us seniors and it'd be cool to end that with winning every one."
The 2014 football season will kick off with the annual Soup Scrimmage held at the Trojan Bowl on Fri, Aug 22 starting at 6:45 p.m. The first regular season game will be on Fri, Aug 29 starting at 7 p.m. in Clarinda, where the Trojans will face the Cardinals.
About the Writer
Savannah Sorensen, Sports Editor
Savannah Sorensen is the Sports Editor for the Needle. She likes running, showing cattle, and playing with her kitties. Savannah's favorite journalism...