Yearbook Adds Video App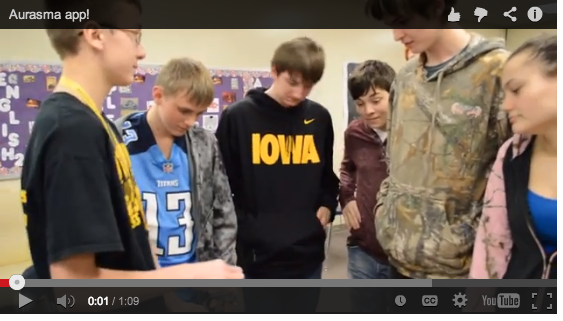 Hang on for a minute...we're trying to find some more stories you might like.
By Dustin Rudolph
Students expect to see pictures in the yearbook, but this year they will be surprised to see video. A new free app called Aurasma will allow students to use their smart phones to watch videos related to selected images.
The AHS Javelin editors have decided to take the yearbook to the next level with this new feature.  Pictures linked to videos will be marked with a Trojan head logo.  All you have to do is log into your Aurasma account, follow AHS Needle, and hold the camera over the photo to make it automatically start a video that corresponds with that photo.  This new feature is revolutionizing the yearbook, and getting students excited.
Yearbook staff introduced the app to a group of students and  their reactions showed it all.  Watch Maria Oltman's 8th period class below.
Video by Turner Russell with Dustin Rudolph reporting
Junior Jackson Anderson saw the app and said, "[It will] get me more connected to my high school."  He also said that he will use the app for when he gets his yearbook, senior year.  Sophomore Matt Tolton used words such as "revolutionary" and "innovative" to describe the app.
Senior Kristin Johnk is a lead editor of the yearbook this year and is leading the new feature.  She says the idea of Aurasma was brought up by Colleen Arneson, the yearbook representative from Jostens.  She feels as if the students will enjoy it. "With the technology that we have today, it will add a new element to the yearbook."  The goal was set to have at least 10 of these pictures, but according to Johnk, they'll far exceed that goal.
Some of the videos that will be included are winter drumline, football kickoff vs. ADM, and service learning day. As students look back at their yearbook, they will now be able to experience more of their years through video.