Carli Thornton reacts to Every 15 Minutes
Hang on for a minute...we're trying to find some more stories you might like.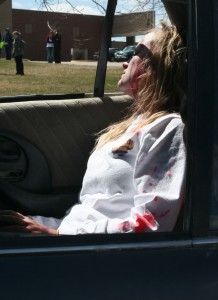 Senior, Carli Thornton participated in last Monday's mock collision and Tuesday's funeral as a victim. She recalled for AHSneedle her experience of sitting in the car waiting, and being transported to the hospital where she was pronounced "dead."
"My head was partially hanging out the window that was no longer there, my hair blowing in the cold wind.  As the tarp was removed form the mangled car, I heard gasps from the crowd of students.  A paramedic tossed a white blanket over my head to prevent car parts from hitting me as they used the Jaws of Life to remove the door to get me out.  It felt like forever before I was on the uncomfortable back board and fit snug into the C-collar."
After being removed from the car, Thornton was taken to the helicopter.  Once she was placed in the helicopter, she was then removed and taken to an ambulance for safety reasons due to the wind.
"As I arrived at the hospital, I was given fake IV's and connected to multiple cords and tubes.  A breathing apparatus was put in my mouth and as the heart monitor quickened, the paramedics performed chest compressions.  After I was pronounced dead, my parents were brought into my hospital room to take a last look. My mom clung on to my cold fingers and slowly kissed my forehead."
Once Thornton was in the clear of cameras, she opened her eyes to assure her family that she was not really dead. Thornton's mother later told her it was the hardest thing she's ever had to do.