AHS Attends Annual Thespian Festival
Eight students traveled to UNI to watch a variety of performances.
Hang on for a minute...we're trying to find some more stories you might like.
Although students often know when football teams and basketball teams partake in elite competitions and trips, they tend to be lesser aware of the activities participated in by the AHS speech team. On November 9th, eight students along with English teacher and speech coach Alex Bales, made their way to Cedar Falls to attend the annual Thespian Festival. The festival was hosted at the University of Northern Iowa campus and lasted two days with over seven hundred students across Iowa attending.
Activities at the festival ranged from watching performances to learning how to perform. Three main stage plays and musicals were performed, in addition to numerous smaller performances such as slam poetry and musical theater pieces. Not only were students able to watch, but they were also allowed to perform on the open mic and compete for scholarships offered by the colleges present at the festival.
Senior Sarah Schorle was one of the thespians present who competed for a scholarship and was also part of the All-State cabaret that performed on the main stage. The cabaret's theme was "shining bright," and included songs from "The Greatest Showman," "Next to Normal" and other musicals.
Sophomore Camryn Church was one of the eight attendees, and said, "It was very fun, very energetic." However, the weather was unfavorable. With the brutal, cold winds and light jackets, walking around campus was a feat. Despite the chilly weather, Church noted that the food offered at the college was a "10 out of 10."
A surprise came to the event attendees during the performance of the play, "The Triangle Factory Fire Project," and will leave a memory all students will carry with them. The play was about a fire that took place in a factory, mostly employed by women. The surprising part came when during the act when the fire is commencing, the UNI fire alarms went off, sending the over seven hundred students into the 18-degree weather.
The Thespian Festival is an annual event, therefore being offered every year to students involved in the Atlantic High School Speech department. Anyone interested in competing or attending the event should begin by becoming involved with this year's speech season, which is rapidly approaching in December.

About the Writer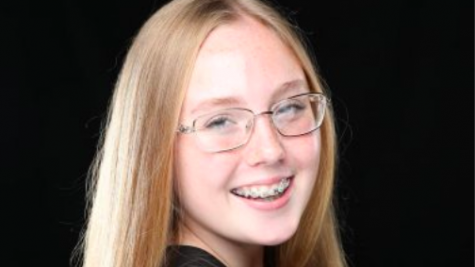 Alyssa Brockob, Editor
Alyssa Brockob is an active member in the journalism department for AHS, acting as an author and editor for the AHSneedle website. In the near future,...