Twelfth Place Finish for Girls' Swim Team
With 63 total points, the girls' swimming team finished 12th out of 31 competing teams.
Hang on for a minute...we're trying to find some more stories you might like.
This past weekend, members of the girls' swim team traveled to Marshalltown to compete in the State Swim meet held on Nov. 2 and 3. They competed in eight events, five individual and three relays. Overall, the girls' placed 12th in a field of 31 teams.
Clare Christensen and Anna Lowary were two of the swimmers who qualified individually. They competed in the preliminary races held on Nov. 2 but did not qualify for finals. Christensen swam the 100 yd. Butterfly and Lowary in the 200 yd. IM and the 100 yd. Backstroke. Cambry Miller swam in two individual races, the 100 yd. Freestyle and the 200 yd. Freestyle, both advancing to finals. Miller placed ninth in 100 freestyle and 14th in 200 freestyle. "This was my best year because I placed the highest individually," Miller said.
Miller, one of two seniors, has competed at the State meet all four years of high school. She enjoys swimming the 100 free because "I'm trained physically for the 200 but the 100 is half the distance." Her most memorable moment from the season was after her final race at the State meet. "All of my teammates came and hugged me," she said.
For the three relays, the 200 yd.  freestyle relay consisting of Miller, Christensen, Aleah Hermansen and Kate Landuis placed eighth and the 400 yd. freestyle relay finished in seventh place. Swimming in the 400 was Miller, Christensen, Lowary and Hermansen. The third relay, the 200 yd. Medley, finished 14th, with Lowary, Christensen, Hermansen and McKenna Ewoldt.

About the Writer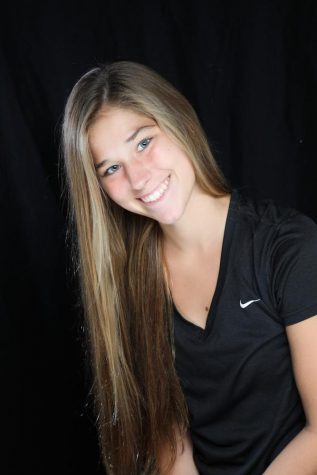 Erin Wendt, Business Manager/Editor
Junior Erin Wendt is one of the two business managers for the AHS journalism department. She also occasionally writes stories for AHSneedle, and her favorite stories are the "Getting to Know the Class of 2017" articles. Wendt said she loves the "independence" of journalism and being able to choose what you do, like broadcasting or yearbook, as well as what she wants to write about. Her favorite memory in journalism so far has been participating in the Media Now camp at Drake University this past summer, where she learned a lot about writing stories as well as meeting many new people.
Wendt has been involved in cross country and soccer so far in high school and has joined FFA this year. Wendt enjoys the "atmosphere during cross country" and how everyone can relate to each other, because no matter if you're JV or varsity, "everyone is giving their best effort." Wendt's favorite thing about soccer is the overall attitude of the team. She said, "Even though we don't have winning seasons, we still make the most out of it and have fun." She is also is looking forward to making some memorable moments in her first year of FFA.
Wendt says her twin sister Ashley knows her best, and she enjoys "chilling on the couch" on her phone, or riding horses with her mom and sister. If her friends had to describe her, they would probably say that she's good at making cookies and the "mom' of the group. They might also say she's quiet because she said she doesn't "talk a lot when we're hanging out in groups."
Wendt would describe herself as quiet and nice, but her sister might disagree with that at times. She also says that she goes to her room for a calming place because "I can be alone." Something that she would never change about herself is her personality.
Profile written by: Ashley Wendt