Performing for Memory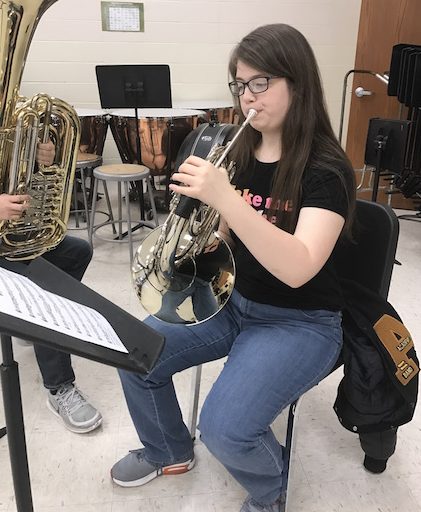 Hang on for a minute...we're trying to find some more stories you might like.
In remembrance of a young, inspiring girl who could not live to see her graduation day come, the AHS concert band will be performing their annual Patty Hannon concert on Sunday, April 30. 
Patty Hanon was a young woman who was a four year drum major here at Atlantic during the 50's. Her senior year, she was diagnosed with a brain tumor and was told that she did not much time to live, but that did not stop the determined girl to continue to do what she loved, band. The honorary drum major sat on the side lines during her final high school season of marching band and cheered on her band members. Sadly the tumor won, and she died soon after that last marching season. Since Patty's death, her grieving father Lloyd Hanon wanted to keep her name alive. So he came up with the idea of creating a concert in her name while giving away a scholarship to two young musically talented students who worked hard during their time in high school. After Lloyd's death, he donated a large amount of money to the Atlantic band department and ever since, Patty Hanon's name has known.
To chose the two lucky band students who will receive the scholarship, they have to fill out an application on why they think they are eligible. Then once they had them in, the band director chooses a group of parents who have children who participate in band and are either a junior or senior to make the important decision. They will announce the recipients of the scholarship at the performance.
Starting off the evening, the young, aspiring musicians of the middle school 6th grade and 7th grade bands will perform first. Then the AHS concert band will perform six different songs on Saturday evening, "Flieger Marsch," "Africa: Ceremony, Song, and Ritual," "Play," "Dusk," "Declaration Overture" and "Carnival of Venice." Before they perform these very differentiated pieces, the band seniors of 2017 will be performing a song with the sixth graders called, "Rock-A-Saurus Rex."
One of the band seniors who has applied for this scholarship is Nadia Somers. Band has played a major role in Somers life since she first started in 6th grade. Somers even plans on pursuing a musical major of instrumental music education at ISU in Ames, IA. Somers said that concert band,"tells a story when you play and you feel all these exciting emotions."