AHS Teacher's Blog Goes Viral
English teacher Emma Walker's blog reaches thousands.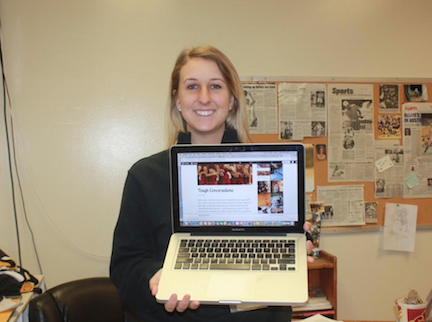 Hang on for a minute...we're trying to find some more stories you might like.
With the new year brings the traditional New Year's Resolutions. The most common resolutions are losing weight or saving money. English teacher Emma Walker has a New Year's Resolution to "get in shape, wake up earlier and blog each week." She began her blog, Becoming Bireline, as introducing herself, beginning her weight loss journey, and Tough Conversations.
Running out of ideas to write about, Walker turned to her high school experience during her basketball career at Exira. The story was about a tough conversation she had with her coach, Tom Petersen.
"I never expected it to be so popular," Walker said. The story on her blog had 364,994 reads, 32,670 shares on Facebook and 86 retweets on Twitter as of Jan. 19. The magazine companies Brilliant Star, Minnesota Youth Soccer Times and Texas Coach will be publishing her story. For Every Mom, a parenting blog, also contacted her asking to publish her story. "It's pretty cool that people want to use my story," Walker said.
"I hope that kids will take away from the story that in anything–dance, sports, and school–they have to communicate with their teachers and their bosses, because I feel like more and more these days with technology, parents step in when they shouldn't," Walker said.
As time goes on, more and more people tend to interact through media, therefore communications skills are lacking. "I know it can be scary, but life is full of tough conversations. There will be so many tough conversations you will have throughout your life, like with your boss, even your parents and significant other. Learning to communicate with people is important," Walker said.
Walker's high-school coach Tom Petersen is in his 23 year of coaching in Exira. "I have the same policy for all my athletes in all the sports that I coach. My door is always open. If you have questions or concerns, please come and talk to me," Petersen said. "I always preach to my athletes to be honest at all times because I will always be honest with them. This situation was no different. Emma wasn't the first athlete that has come to me, nor was she the last. Often times, student-athletes do not understand the importance of communicating with their coaches when they have issues or concerns. They would rather tell their mother and father, and let them handle it," Petersen said.
Walker reflected on her time playing for Petersen. "He was an amazing coach," Walker said. At the time, Petersen had been coaching for 13 years. "We are around these kids more than their parents are and it is our job to provide them with the life skills necessary to be successful in life," Petersen said. "I knew that Emma was struggling and not having fun. When she came to talk to me, I knew what was on her mind."
Petersen said he loves all the kids he coaches, "but I am going to be honest with them regardless of the situation. I gave Emma a big hug and let her talk. I will always listen first to what is on their mind. Em told me what she was struggling with and why, and then I told her how it is."
Petersen said he saw potential in Walker, but she had to "develop a work ethic first. She had to earn everything that she got; and she did. For her to come and speak to me showed me her true character. I wanted her to stick with it because of what I saw in her. I'm sure glad she did, because I believe it helped her in the long run."
Walker put in, "a ton of time over the next two years, and helped Exira reach the state tournament for the first time since 1965," Petersen explained.
Petersen said reaching state is "not what it's about." He said, "If [athletes] can take something from my program and apply it to life and learn from it, then I have succeeded as a coach."
"Like Emma said in the article, no one understands what coaches go through and how often we take everything home with us. We want all of our kids to be successful and have a positive experience, but that is not how it goes all the time. Parents need to know how much we care and realize it's not about them, it's about the kids," Petersen said.
Walker wants her blog "to encourage anybody that feels like they're good at writing, put yourself out there. I was afraid to put my work out there because I was afraid people would read it and not like it. Anything you want to do; writing, makeup blogging, art, fashion, just put yourself out there," Walker said.
"It was very inspirational," junior Braden Bean said. "I thought it was a very good story and well written," senior Kirsten Brown said. "I thought it was very brave of her to share a personal story. It was a very relevant story for her as a coach, as she's probably been in that situation before," Spanish teacher Trisha Niceswanger said.