Season Debut for Jazz Band and Show Choir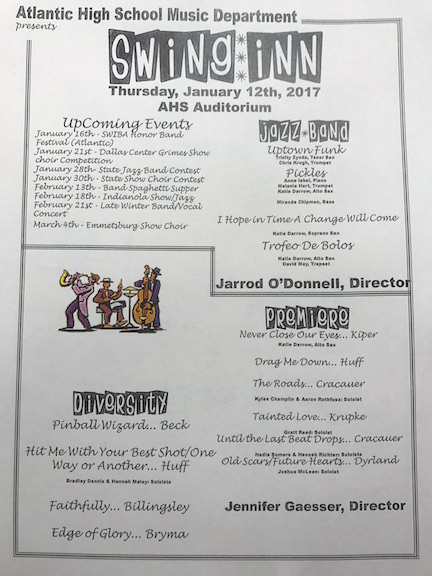 Hang on for a minute...we're trying to find some more stories you might like.
The Atlantic jazz band will start off their season on Jan. 12, at the Swing Inn concert. This debut will be held here in the auditorium at 7:30 p.m. with an admission of $5 for adults and $3 for students. Activity cards will be accepted.
The 19 students who make up the jazz band will perform four songs that will make the talent of the members truly shine. They will play "Uptown Funk," "Pickles," "I Hope In Time A Change Will Come," and "Trofeo de Bolos." These songs were chosen by Jarrod O'Donnell, who has been the director of the jazz band for eight years. He chose these songs specifically because, "they fit the group well." The song Pickles will show the swing and sass the jazz world teaches. In I Hope In Time A Change Will Come, it will be featuring Katie Darrow on the soprano saxophone and "show off the maturity of the piece." Trofeo de Bolos is a "great energy piece," to end their performance, giving off a fun sense of style.
Performing along with the band will be Atlantic's show choir both diversity and premiere. The themes this year are a Blast from the Past for diversity. They will be singing songs that were first came out before many high schoolers today were born. The songs are, "Pinball Wizard," Hit Me With Your Best Shot/One Way or Another," "Faithfully," and "Edge of Glory." Hit Me With Your Best Shot/One Way or Another will be featuring two soloists, Bradley Dennis and Hannah Maley.
Premiere's theme for this year's show choir season is "life is not a test." This specific theme represents how in life you go through bumps along the road and you will be faced with challenges. The songs the choir will be performing are, "Never Close Our Eyes," "Drag Me Down," "The Roads," "Tainted Love," "Until the Last Beat Drops," and "Old Scars/Future Hearts." The mastermind behind these deep meaning performances is Jennifer Gaesser who is looking forward to her "first show choir performance that will be in front of an audience."