Academic Success in AHS
Three students from AHS were selected to receive the Hawkeye-10 All-Academic Award.
The annual Hawkeye 10 All-Academic banquet was held on April 3, 2019, at the Cass County Community building in Atlantic. The banquet is always held in Atlantic as it is a central location for each school. Every year, 22 students throughout the conference are selected to receive this award, and six members of Atlantic High School were nominated for the academic award. Of these students, three were awarded, including Baylee Newell, Connor Pellett and Sarah Schorle.
In order to be eligible to receive the award, students must be a senior and score a 29 or higher on the ACT. Principal Heather McKay said, "I look at their school involvement and class load as well. This means the types of classes and levels of classes they take." McKay first lets the students know that she is nominating them and tells them that she recommends they apply for the award. The students then fill out their application with information from all four years of high school and the activities they've been involved in. Students who took high school classes in middle school were also encouraged to include these on their application. McKay submits the applications to the Hawkeye-10 selection committee where it is then reviewed. The committee anonymously judges the applications based on leadership, character, service, GPA and ACT.
Additionally, senior Caine Paige received the character award at this year's banquet. One student from each of the 11 schools is awarded this honor, and an academic award winner cannot be selected for the character award. Students chosen for the character award show a positive attitude in school and are excited to learn. They also exemplify the Six Pillars of Character which include respect, trustworthiness, responsibility, fairness, caring and citizenship. According to McKay, "Each school has a different process for nominating a character award." At AHS, she sends out a roster listing all of the seniors and each teacher picks one as their nomination.  "Usually there's a clear winner," she said.
The award winners are not provided a scholarship, but this is a way for them to receive recognition for their hard work. The students selected are "definitely involved in school. They're great kids," McKay said.
About the Contributor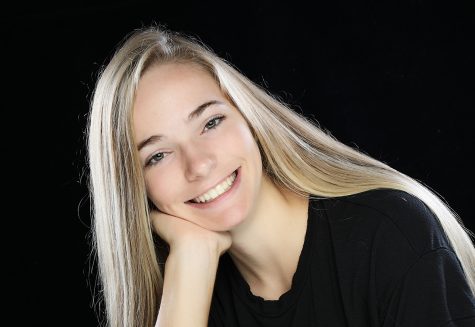 Caroline Pellett, Yearbook Editor
When Caroline Pellett, a junior at AHS, isn't playing volleyball, track or softball, you can probably find her with her three corgis, Jake, Sadie and...