Atlantic to Host Individual State Speech
Schools from across Iowa will be visiting Atlantic to participate in the District Individual Speech competition.
Some say actors can do anything. They do improv after being given only a story base and a few characters, some have tearjerking pieces that tug at the heartstrings, some have funny pieces with wacky characters that make people laugh until they can't breathe and some sing their hearts out to tell a tale.
Atlantic is one place where actors can plant their roots and grow by hosting District Individual Speech on Saturday, Feb. 23. As the host school, coordinators must find judges and prepare rooms for speech candidates, including the students from Atlantic and the other thirty attending schools. "It's not a speech like you give in a class," said speech co-director Trisha Niceswanger. "There's a variety for any type of speaking a student would want to do. A lot of people think it's just standing and giving a speech, and it's not."
Niceswanger and Alexander Bales, also a co-director, will choose the rooms for categories based factors such as acoustics and space, among others, in relation to the needs of each category. They will choose the judges based on needs as well, such as a retired choir director for musical theatre.
"
I love seeing the kids grow because they push themselves out of their comfort zones."
— Trisha Niceswanger
Many different categories are offered to try in speech, including common categories such as improv, acting, musical theatre and poetry, and also some of the more unfamiliar ones, such as spontaneous speaking, pros and after-dinner speaking. Niceswanger said, "I love seeing the kids grow because they push themselves out of their comfort zones. They try a category they haven't tried yet. It may be something they really thrive in or it may not be great but they won't know unless they try."
She would recommend volunteering to help at the competition because not only is it worth silver cord hours, but it also gives people a chance to see some of the pieces in different styles and themes. Bales said, "I'd like people to come out and try it." The schedule is organized completely online to help prevent conflicts. For example, some students may be in two categories, and this helps to stop their performances from overlapping or causing trouble. "Public speaking is a lifetime skill, and you'll be able to use that, whether it's practiced, or spontaneous," added Bales.
The speech department is still in need of volunteers to time, compile points and keep schedules. If available and interested, students can sign up to help by talking to Niceswanger or Bales.
About the Writer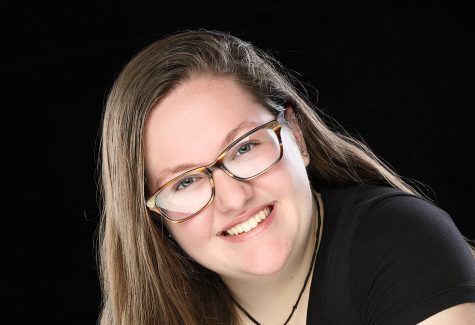 Anastasia Muell, AHS Needle Editor
It's difficult to find a more energetic, positive and kind girl than senior Anastasia Muell. She has dedicated the past three years of her life to excelling...