Two Straight Weekends of Competition for Speech and Debate
Many members of speech and debate found success in their respective competitions.
The past two weekends have been busy for the speech and debate department of AHS, with two-day competitions at both Johnston and Dowling. The Johnston Dragon Invitation took place on Nov. 30 and Dec. 1, while the Dowling competition was held over the days of Dec. 7 and 8.
Seven of the competing pieces placed in the top five at Johnston, including first place from Genevieve Martinez in Program Oral Interpretation and second place from Carina Birkel in Dramatic Interpretation. Lane Muell earned fourth place in Humorous Interpretation, and Sarah Schorle and Troy Roach also earned second in Duo Interpretation, with a piece titled "That's Not How I Remember It." According to Schorle, this piece is about a mother and a father telling the story of how they met, and disagreeing about the details. "It's kind of a homage to the 80s and so it's just very fun with character work and stuff like that," Schorle said. Schorle and Roach each also participated in individual events, with Schorle earning third in Program Oral Interpretation and Roach fifth in Student Congress.
Also participating in Student Congress and a third event, Schorle left with a fourth-place finish in this category. Schorle said that she enjoys the topics of Student Congress and "getting more involved in that type of stuff." By participating in this event, she has been able to learn about issues that she "would not have explored otherwise," such as the issue of veterans obtaining service dogs.
The next weekend at Dowling, Schorle advanced to the semifinals in Spontaneous Speaking. This also happened to be her first time participating in the event. "[It] was interesting. It was very different each round. I felt like I got better throughout the day," Schorle said. Spontaneous Speaking is a matter of giving multiple speeches with little time to prepare. At this particular tournament, Schorle competed in five rounds, each with a different prompt and three minutes to prepare a five-minute speech. According to Schorle, these included questions and choices such as "does the NFL do enough to treat and prevent concussions," "invisibility or mind reading," "should technology be allowed in classrooms," should human organs be put on sale instead of a donor list" and "should CEOs bonuses be capped."
Many members of the speech and debate team have been preparing events as far back as July and August. The national qualifier is set to be held on Feb. 8 and 9, and students that advance from there may be participating in competitions as far as June of the following year. "It's basically all year round, you're competing and prepping for tournaments," Schorle said.
By taking part in this organization, Schorle has expressed a new confidence in speaking, and said that while she used to be the type of student that would rather write papers for a class, she is now one to prefer presentations. She also accredits the program for showing a new perspective to students. "I think it teaches you advocacy, and really sticking up not only for yourself but for other organizations and groups," Schorle said.
Speech and debate will continue to prep and practice as their season of tournaments and competition pick up speed.
About the Writer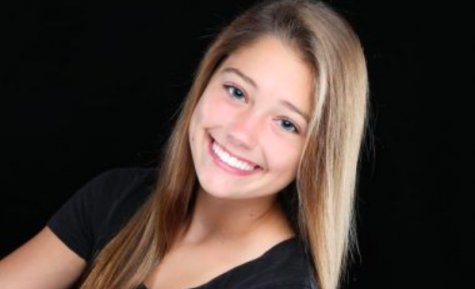 Ashley Wendt, Lead Editor
Journalism is a family affair for the Wendts, as Ashley Wendt's siblings got her involved in Journalism. Her brother Trevor was the first to join and...