AHS Quartet Performs National Anthem
Four Trojan singers performed at the 1A State championship football game on Friday, Nov. 16.
Hang on for a minute...we're trying to find some more stories you might like.
The conclusion of All-State auditions results in mixed emotions for many of the involved students. Those who make it are often in high spirits, while those who miss out are generally disappointed. However, for four AHS choir members, a different opportunity presented itself: singing the National Anthem at the 1A State championship football game. The quartet comprised of juniors Bradley Dennis, Katie Saluk and Ana Muell, and senior Chris Krogh. For three of the four members, this was also their first time performing in such a manner. "This was my first time singing the National Anthem for any games, whatsoever," Muell said.
Other AHS students have also had this opportunity in the past; Max Elwood and Austin Mwalia sang at the 2015 State football game. According to choir director Jennifer Gaesser, this chance is given by the Iowa High School Music Association (IHSMA) executive director. Gaesser explained, "What happens is the IHSMA executive director emails choir directors saying he has so many spots free for National Anthem singers and asks if any choir directors have a group that would be willing to do that." The openings are then given to the first three choir directors to respond. Gaesser happened to be one of the three, thus gaining the slot for the 1A game.
The group, chauffeured by Spanish teacher Trisha Niceswanger, left early on the morning of Friday, Nov. 16 to head towards Cedar Rapids, where they would perform at the UNI Dome on the campus of the University of Northern Iowa. Their showing was set to be around 11 a.m., preceding the kickoff of the game between Dike-New Hartford and West Sioux.
Trisha Niceswanger
To decide who would present the song, Gaesser said she first started with those who had auditioned for All-State. "Since I had three that made All-State I went with the next quartet, which had a bunch of juniors and seniors in it," she said. In order to prepare for the event, the quartet had to learn the four-part harmony for the National Anthem. Receiving the parts about two weeks in advance, they practiced during AO, before or after school and on their own before putting it all together. "We would all just come to the choir room and sing over the song. Maybe put in a little bit of dynamics here and there," Krogh said.
The ensemble was expected to arrive 45 minutes prior to their performance and was given 30 minutes to warm-up and practice as needed. Muell was "terrified" as they were escorted to their designated area, and said, "You're walking through all these people, and they know you're the singers for the Star Spangled Banner, and there's lots of football players and fans and everyone…It's just this big thing and it's absolutely terrifying." As one of the first-timers, Muell also said it isn't something a person can really prepare for unless they've already done it before. However, Krogh said he was "really confident" before the performance but nervous about hitting the right notes and how well his partners would do as well.
At the conclusion of the performance, the crowd was "roaring." "For the next 10 minutes we were just filled with this adrenaline rush," Muell said. As they made their exit from the stadium, the quartet was complimented by a variety of people, including a police officer that told them she "knew it was good when it gave me chills."
About the Contributors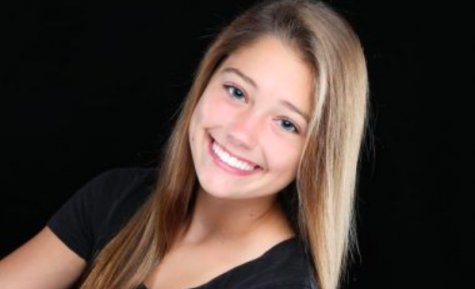 Ashley Wendt, Lead Editor
Journalism is a family affair for the Wendts, as Ashley Wendt's siblings got her involved in Journalism. Her brother Trevor was the first to join and...