Taking Back the Track
This year's motto for girls' track is "Take Back the Track."
Hang on for a minute...we're trying to find some more stories you might like.
Nine senior girls are out for track this year: Sydney Bean, Charity Williams, Sidney Svoboda, Cheyenne Elliott, Morgan Altman, Jessica Hartwig, Kylie Proehl, Haley Engler and Cora Zikuda. Svoboda and Elliots are throwers; Bean, Williams and Hartwig are sprinters; Altman and Proehl run hurdles; Engler and Zikuda are distance runners.
New head track coach Ryan Henderson is a change for the girls. Practices are run quite differently from the style of the previous head coach Paul Iekel. The girls are still adjusting to this new coaching style but say they know it will help in the long run. Brad Rasmussen, former head coach of girls' cross country and track at Glenwood, has been volunteering to help with many aspects of the team since last year. He is now coaching the distance runners and occasionally helps with throwers and long jumpers. Assistant high school girls' track coach Abby Becker also helps with a little bit of everything.
Official practice began on February 13, and their first meet was Monday, March 12. The meet was held at Iowa State University and is the largest indoor track meet in the nation. The girls had a few runners participate and a couple that placed. Williams placed 45th in the 60-meter dash, sophomore Pluma Pross placed 38th in the 800-meter run, and freshman Taylor McCreedy placed fourth in the 1500 meter run.
As the season got off to a start, many girls on the team made some of their own goals. Freshman Jenna Pelzer said her goal was "to get faster." Pross said she would like to "run a 60 second 400 like I did my freshman year." Going back to the State meet is a goal for junior Taylor Hansen and Hartwig said hers was to "actually be put in a meet."
The motto for this year's track season is "Take Back the Track." The girls' team did not send any athletes to the Drake Relays or State during the 2017 season, but the 4×100 relay has qualified for Drake this year for the first time since 2012. The relay consists of senior Sydney Bean, freshman Haley Rasmussen, freshman Alyssa Derby and Williams. Many other times in relays have also already been improved and the 4×800 placed second at the Denison meet with two new freshmen on that relay.
With the uncooperative weather lately, the team has had to have multiple indoor practices to stay out of the harsh conditions as well as a few postponed meets.
Hopes are high for the rest of the season to go as planned, the weather to get warmer, and for the girls and coaches to reach their goals!

About the Writer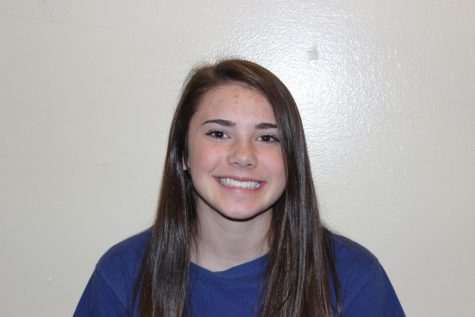 Aleigh Bean, Journalism Production Student
Atlantic High School sophomore, Aleigh Bean, is a member of AHS journalism. In her freetime she does track and dance. "I enjoy running track because...