Injured Archer Learns New Technique
Jordan Zarbano injured his arm and has now learned to shoot with his teeth
Hang on for a minute...we're trying to find some more stories you might like.
Jordan Zarbano isn't one to give up when challenged, as archery is his skill. However, this challenge is not in archery, but rather an injury to his arm. This injury occurred during the high school boys football season. The result was a torn labrum and a rotator cuff popped out of position in his left arm. Despite the injury Zarbano still persists with archery.
Since Zarbano's arm is unusable for archery, he has found another way to use his bow. Through multiple examples online and a some practice, he knows how to shoot with his teeth. "It's not as hard as I thought," Zarbano claimed, "It takes a lot to get used to." He also said that he has always had a "natural talent" for archery and that has helped learning to use the bow this way.
In order to use the bow with his mouth, he requires a mouth piece. The piece is attached to the string of the bow and it allows him to pull it back. However, Zarbano doesn't have one of these mouth pieces and instead uses a leather shoelace. He bites the shoelace with the knock and extends his right arm, pulling with his neck. While it is effective as a shooting method, Zarbano claims that it hurts a lot. He said that he is only able shoot about three times before his neck becomes too sore to continue. Despite his injury, his talent hasn't faltered much.
"
He is able to compete with his disability and is doing really well so far."
— Clint Roland
Zarbano's coach, Clint Roland said, "He is able to compete with his disability and is doing really well so far." On average, Zarbano said that he gets a score in the 270s range. With his injury, he has a average around 250 which he plans to increase to 280. This is measured based on a 300 point standard. Zarbano is still allowed to perform in competitions, but there are some different requirements to be met.
In order for Zarbano to shoot, certain requirements must be met at the competition. He does not receive any bonus score for shooting as a handicap. When he goes to shoot, his needs must be met in order for him to perform. Zarbano claimed that he likes to help others learn to shoot as well.
When he isn't learning, Zarbano is helping to teach the next line of archers. He instructs a few of the middle schoolers from time to time teaching them "perfect technique." Perfect technique is all about positioning of the hands, feet and thumbs. Zarbano also stated his personal views of what goes into shooting. "Perfect form is 90% and mental is 10%." The kids appreciate the help Zarbano gives them and are always willing to ask for help. Even though he enjoys helping the younger archers, he has his own goals for archery.
Zarbano has met more than a couple of Olympians throughout his career as an archer. He wishes to become an Olympic archer himself and practices for it constantly.Once his arm is healed, Zarbano will keep training to reach his goals. He's ready to get out there and show his skill.
For further info on Zarbano and other archers go to: https://nasptournaments.org/archersearch.aspx

About the Writer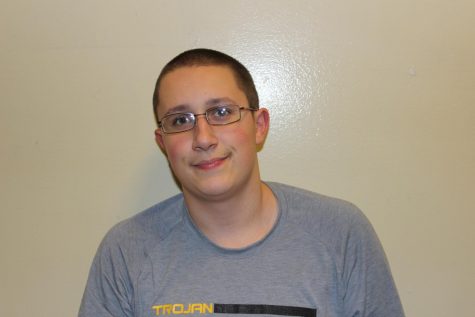 Cole Sampson, Journalism Production student
Atlantic High School sophomore Cole Sampson is a member of the AHS journalism team. Though he is not yet sure which aspect of the school's journalism...