Show Choir Takes the Stage
What goes into show choir?
Hang on for a minute...we're trying to find some more stories you might like.
Choir is well known around AHS as an elective for anybody to join, but show choir is another story.
Still available to everybody, show choir is organized in two sections: Diversity, which currently has 41 participants and Premiere, which has 43. "Premiere requires auditioning in front of two judges for singing and dancing," said show choir director Jennifer Gaesser.
Senior Jake Redler, who's been in show choir all four years and Premiere for three said, "You have to be more of a leader when you're a senior. Going from Diversity to Premiere is a big change. You gain more confidence."
"
High school is more complex and its harder to have breath support when you're dancing more vigorously so it's more of a challenge"
— Genevieve Martinez
It's very different going into high school show choir after already experiencing middle school show choir. The middle school program was very simple. "High school is more complex and its harder to have breath support when you're dancing more vigorously so it's more of a challenge," said freshman Genevieve Martinez.
Martinez, singing as an Alto 2, started out with some difficulties, but conquered them in the end. "Alto 2 can be challenging because you can't sing the melody. You have to sing the harmony and you have to make sure you don't get lost in the melody with the sopranos."
There are many reasons students get into show choir and enjoy it. Martinez, sophomore Cayman Muzney, and junior Cambry Miller all agree that they joined show choir because of their friends. In contrast, Redler said, "My mom made me and I'm glad she did because I love it."
Show choir takes a lot of time and effort for students between learning music and choreography as well as putting it all together. "Competition season really starts kicking in during the third week of January," Gaesser said.
Premiere and Diversity travel to many different places including DCG, State show choir, Emmetsburg, Indianola, and North Polk. Coming into 2018, Gaesser hopes to make it to DCG finals as a group and score at least a 500.
Singing is only half of the difficulty when it comes to show choir. There's also the dancing. This year's choreographers are Grant Luther and Tony Dam. According to Redler, the dance captains (which include seniors Rebekah Hallman, Lexington Grooms, Redler and Josh McLean) tend to "add a little bit of their own thing" to the dances. They tend to change parts of the routines if the majority of the students can't do it. Overall, choir is all about stepping up and working together to make sure everybody's ready for the beginning of competitions.
Show choir is enjoyed by many people throughout the high school. "Competitions are my favorite because they're fun and you get to hang out with everybody," said Muzney. Redler wants everybody to know that, "Anybody can do it. It's not just people that dance or like to sing. It's an experience that everyone could use and enjoy. There's not anybody in choir that isn't happy."

About the Writer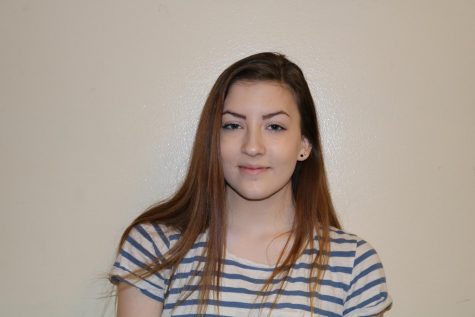 Callie Richter, Journalism Production Student
In addition to AHS Journalism, sophomore Callie Richter is involved in soccer and AHS Fuel. In her free time, she enjoys running outside, going out to eat with friends, and listening to good music. Most of the time she finds herself lying in bed doing homework, rewatching "That 70s Show" on Netflix, or watching her favorite movies, "Napoleon Dynamite" and "Die Hard" for the millionth time. In the future, she sees herself going into the National Guard and one day would like to attend Iowa State University for Elementary Education.