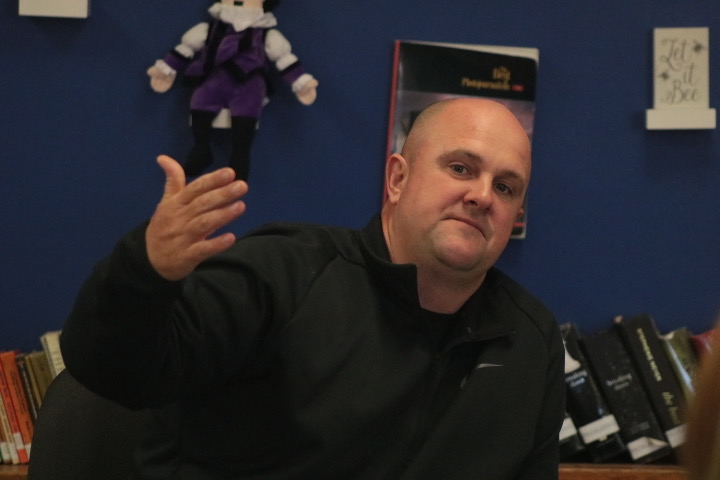 Josh McLaren
What made you interested in becoming a school board member?
When Dr. Amstein was the superintendent, he approached me and asked me about doing it. I was born and raised in Atlantic, I graduated from here. Minus some time in college, I've lived here my whole life. I have three boys in the system and it kind of appealed to me as far as that goes.
What do you see as our district's strengths, specifically as they relate to the high school?
We have a lot of good things curriculum-wise, academic-wise those types of things are fine arts. When you look at the state level and conference level, obviously fine arts–our music, our art– as well as our athletics, those are important but I need to get in there and look, but the aviation program, we're trying as a board to get those new things to our school. We have a lot of things to offer that other schools don't.
What problems or concerns facing the district are priorities to you? How would you address these concerns? 
I think one of the problems we have, and I think it's because I'm a Deputy Sheriff at night, I see some things that I think are in the school as well that I see professionally. We have some problems with some drugs. Whether it's in the school, I don't know. Some of it is societal things like bullying and harassment, as well as prescription pill abuse, dependency. These obviously are concerning to me because I'm a board member, I have kids in the school, but also because of what I do for a living. 
Another challenge is to make more, new opportunities for our students. We try to plan for the future. We owe it to our kids to stay on top of that. I don't know what the next thing is, but there's going to be something and we need to be allocating resources and make it feasible to add to our curriculum.
Should financial support of activities (the arts and athletics) be tied to the number of students involved, the success of the programs, or other factors?
I don't think it should have anything to do with success or numbers. A few years ago our girls golf team was either the state champion or runner-up and they only had six or seven ladies on the team. I played four sports in school. I try to preach this to my kids. There's a lot that you can learn in athletics not based upon the win or the loss. We're setting ourselves up for the future things in your adult life.
I know there are a couple of activities that are kind of numbers-driven. It is what it is. The board made that decision, and I'd be willing to revisit that. I want them all to be successful.
What do you think about the school's current budget distribution? For example, do you think we spend too much money in some areas and not enough in others?
I've been on the board awhile and I can't say that I still understand it completely. It's a completely different monster. As far as raising or lowering those types of things, a majority of it is numbers-driven, formula-driven from the state. There's not a lot of things we can move here to go there. There's so many buckets of money and only a certain amount of money can go into certain buckets and pay for certain things.
How do your children influence your opinions on issues?
A lot of the stuff we do is not necessarily related to the students but when it is, I try to put my three boys into that. With that, I think what's best for [kids] is what's best for the student body. So absolutely it does. I try to make the best decisions on what I think is best for the students.
What should we do to get highly qualified teachers to come to Atlantic and stay in Atlantic?
I think a lot of it has to do with pay. A lot has to do with team culture, success–not necessarly wins and losses, but expanding programs. We spent a lot of money to have computers in our students hands. The best way to keep [teachers] and attract them is to try and stay on top, whether that's material things or course offerings. It all comes down to the dollar bill but it's driven by a board. Those things are crucial.
What do you want students to know about you and your goals?
A lot of [students] know who I am. I'm definitely an Atlantic person. Graduating from here, coming back here, now raising a family and having kids here, if it didn't mean a lot to me then I wouldn't be running again to be on the school board. That's the reason why I started it.
Is there anything else you would like to say about your campaign?
I just enjoy doing it. I love learning about a lot of different things. I love knowing what's going on especially when it involves my kids and students as a whole. We're battling through setbacks. Hopefully next year we can battle through all of the uncontrollable things that are happening.