A New Furry Face at AMS
October 11, 2022
In Atlantic Middle School the number one question asked in the halls isn't "What's for lunch?" or "What are we doing at recess?" instead it's "Is Charli here today?" The furry friend has quickly become the highlight of everyone's day, spreading instant happiness and comfort wherever her paws take her. Charli is a golden doodle and is the newest addition to the AMS Staff as a therapy dog.
"It's been very positive," said AMS principal Scot Aden, "It's probably one of the most impactful things I've done as an administrator." Aden is new to the district this school year and brought Charli with him after hearing the stories of how it positively affected kids at a nearby middle school.
Introducing Charli into the school has changed its atmosphere, however, the results didn't come easily. Aden got Charli two years ago and had to go through many pieces of training and tests before Charli was ready to enter a school. This training included trips to Orange City for "puppy preschool" and from there Charli went through the levels of obedience classes. Charli then partook in a one-day therapy dog training session. Finally, Charli had to pass the certification test through the Alliance of Therapy Dogs where she had to go through a regime of different challenges in front of a tester.
"
She has that unconditional love.
— Scot Aden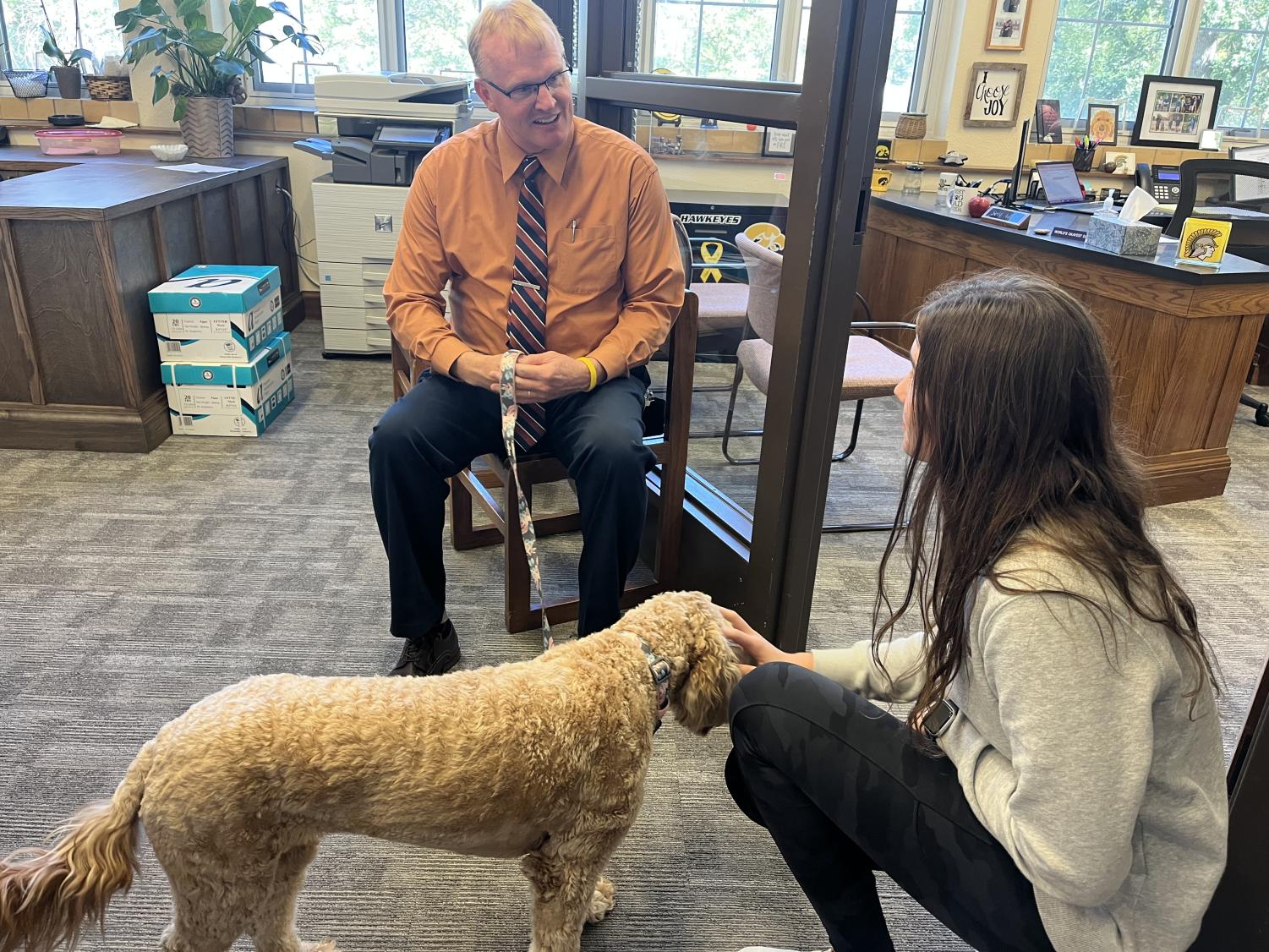 Charli Starts Her Job
Aden messaged the parents to inform them about Charli and asked to be notified of any apprehensions or allergies. Charli was then introduced to the middle school through class meetings on the first day of school. Aden talked about the dos and don'ts around Charli and the rules for the kids. These include things like approaching her calmly, not yelling or screaming around her, and always asking permission to pet her. Aden avoids passing time in the hallways with Charli because big crowds have been found to be intimidating for her.
"She makes my day when I see the bond the kids are having with her and the smile it puts on their faces," said Aden. Charli works with anywhere from 20-30 students a day. Some students have brief 10-second interactions and others come into the office like clockwork each day. "I see her whenever I can," said Skylee Krogh, an 8th grader at AMS. Krogh's favorite part of having Charli around is "the love that she gives us." Charli not only looks after the kids but also the staff. Aden shared that a teacher had been playing with Charli for 10 minutes, then got up and said, "Okay I can go back to class, that's exactly what I needed." 
A Therapy Dog's Impact
Therapy dogs are used in schools across the country and have proven to be effective in academic and social growth. According to Frontiers in Veterinary Science, therapy dogs have been found to reduce physical stress, increase positive attitudes, and promote engagement in learning activities. "She makes me feel like I have someone to see when I'm having a bad day or just not feeling like I want to be at school," said Davon Jensen, a 6th grader at AMS. Jensen spends as much time as he can with Charli and said that whenever he sees her he's instantly happy because she's calm and good around people. Aden said Charli "has that sense when people need that extra love and she'll go to them."
For the time being, Charli spends all of Monday, Wednesday, and Friday at the middle school, taking Tuesday and Thursday off to recover from all the emotion the previous day has held. Spending her days cheering everyone else up takes a lot out of her.
With only a few weeks into school, Charli has undoubtedly changed the ambience within the walls. Helping some kids through sickness and acting as a stress reliever for others, Charli has been a positive addition to the staff. "She has that unconditional love," Aden said, "She will love on everybody."