An Inside Look at All-State- OPINIONS
Students share their reflections on the challenges of All-State tryouts.
November 8, 2021
All-State auditions took place on Saturday, Oct. 23.  Multiple musicians at AHS participated in the demanding audition process during the weeks before the in-person audition. Three participants shared their experiences with AHS editors.
Katie Birge
Junior Katie Birge participated in the All-State process.
I didn't make it into All-State, but don't feel bad for me! To me, All-State wasn't just some goal to get into a famous choir, but rather a process to help me grow as a musician. 
I learned how to work better with a group of people, and I made a few friends while doing so! Along my All-State journey, I learned to take on big challenges with a smile. I knew there was a very slim chance I was going to make it in, but I did know that the process would help me become better at what I am passionate about. 
All-State was one of the biggest musical challenges I have ever tackled. When I first decided to try out, it was actually because I was convinced to do so by my best friend Nina Welter. I don't think either of us knew what we were getting into! I had two months of hard learning before I walked into a room with my group and sang for seven minutes in front of one judge. 
My group and I hadn't had the easiest journey. During the season of All-State, my group was faced with an obstacle. I came down with a case of COVID about three weeks before our audition. I was quarantined for two weeks and the week of auditions I came back to school. My group and I practiced like mad. 
The day of auditions was nerve-racking.  We practiced and practiced the sections of the music that were given to us at 5 a.m. The music was to be sung in front of a judge. At the end of it all, I couldn't believe I was done! I have come a long way, and I am proud of the work my group and I put in!
Reese DeArment
Junior Reese DeArment shares her point of view from her All-State experience.
All-State auditions were nothing like I expected them to be. I knew I would sing in front of a judge for the audition, however, I wasn't aware of how nerve-racking it would be. Our audition group just walks into a room with a single judge, sings, and then walks out. Then comes the long period of time waiting for the recall list and accepted list. 
Upon getting to the school at 5:00 a.m., we received the cuts of the songs we would be required to sing. Then, up until our audition time, you study those cuts and make sure you have your notes down. I was very happy with the cuts and felt very prepared, however, I was still very nervous to stand in front of that judge. The audition ended up going very well, and I am proud of myself for performing my best and working hard on the seven songs.
Genevieve McCalla
Sophomore Genevieve McCalla made it into the All-State choir.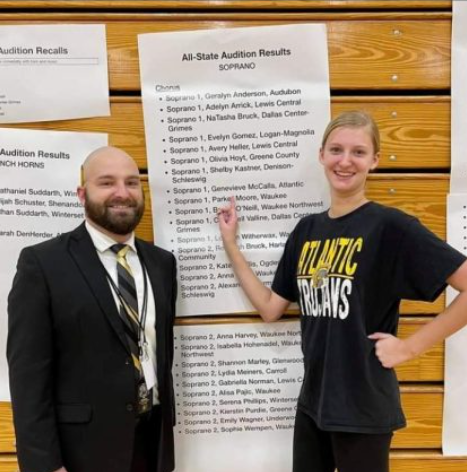 All-State was something I knew I wanted to work hard for, even though I was sure I wasn't going to make it. Even from the first camp, we went to, I thought that everyone in the room sang better than me. 
I thought it would all be okay when I didn't make it because I wouldn't be disappointed. Even on the day of auditions, while we lay on the cold tiled floor of the 400 hallway behind the school kitchen, I listened to those around me practicing. The beautiful, clear sopranos down the hall who didn't have to scream to reach those high notes. When it was finally time for our seven-minute audition, I didn't think it even went exceptionally well, although the judge was friendly. When the recall list came out, I admit I was still sad I didn't see myself on it even though I thought I had prepared myself.  
I found out that I'd made it after laying on the floor for hours and heard screaming coming from the gym. The tenor from my audition group came out and told me, "You made it." I didn't even have to get recalled. 
To this day, I still wonder how I managed it and why I got picked instead of anyone else. Of course, I'm happy, but I still feel bad for those that didn't make it but deserved it more than me.