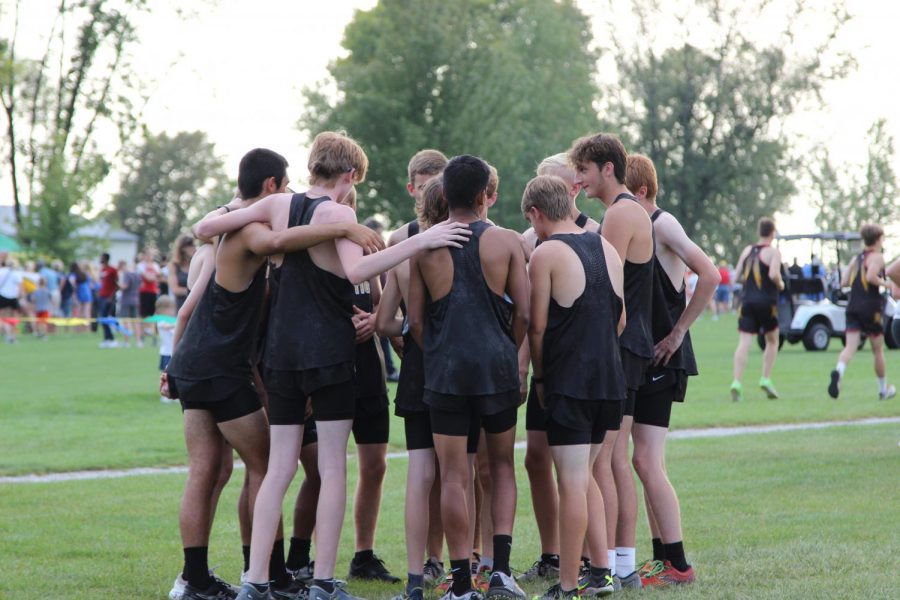 Fall Sports Preview
Fall sports are in full swing!
September 16, 2021
As students get settled into the groove of school, the fall sports begin and kick off the 2021-2022 school year. Each sport dedicates time for their practices for the best outcome of their season.
Cross Country
Runners are excited to race to success.
"Exciting," is how cross country coach Dan Vargason would explain this season. "We're finally back from all the Covid protocols, we can just go out and run, fans are at the meets, new kids, kids that are passionate about the sport, that's fun." The team has gone to 3 meets. Shenandoah, where the boys' team won and the girls' team got runner up. Then they ran in Clarinda. The boys' team won again and the girls' team was runner up. They also ran at Glenwood, the boys' team got 6th and the girls got third. Vargason said, "Not just the results but the kids are working hard and starting to get used to the way things are." 
To get ready for the season, the team ran in the summer and filed out a running log, lifted weights, went to a camp in Norwalk, worked out with the National Guard, and hit the first two weeks off running.
Vargason's main goal for this season is to focus on "not just the running but are the kids becoming respectable people with good character. Our expectation is that everyone understands how the program works and we're kind of a family, that we're respectable, we clean up, we do all those little things, we're detail-oriented." 
Football
The football team trains for success.
"Our main goal is to get better each week. We try to make progress as we go on and try to build our successes from week to week," is football coach Joseph Brummer's main goal for the team this season. The Trojans fell to the Glenwood Rams 38-0 and the Kuemper Knights 34-0. Against Shenandoah, Atlantic won 37-13. To prepare for the season, the team went to a camp at Simpson College in July, hosted a football camp, lifted, and more. 
Brummer would describe the season as "Progress." With 67 kids out, they're working hard. "We're going in the right direction. We had 17 new starters from a year ago and we're building on some success and more experience. We're definitely getting there, it's just not the desired results that we want."
Football is more than a game though. The team gave a football to Carroll Kuempers' Austin Molloff who is battling cancer. The team also wore blue socks and was there for Shenendoah for Grace Johnson, who passed the month prior.
"Practices are hopefully getting more intense, more physical, and a lot of hitting. We do lots of offensive time, individual time, team time. With some special team sprinkled in there, we have some intense tempo practices that we get after pretty well," said Brummer. He would encourage anyone interested to go out and get involved.
The next game is against Ballard on September 17.
Girl's Swim
Girls swim is ready to kick off the season.
Swimming 6,500 yards a day, coach Dean Junker hopes to have the girl's swim team at 10,000 yards per day. Practices usually look like pulls, kicks, lifting weights, and a variety of swimming styles. Junker said this season is "hopeful" and he desires to have the girls swimming at districts and state by the end of the season. "I suppose to get them in the best condition I can, we're gonna work hard," is Junker's goal. He also says "It's a great sport, it's great exercise, it's something you can use for the rest of your life." 
Junior Edria Brummer used to swim on the YMCA Team "Flying Sharks." She eventually quit to focus on cross country but came back this season to stay in shape for spring sports because she missed it. Her main goal this year is to "fill in spots to benefit the team." 
Brummer enjoys swimming freestyle and breaststroke, just like many others on the team. "My favorite workouts are definitely shorter ones with more sprints.  I enjoy working on my upper body and doing pulls."
The swim team will have their first meet on the 18th at Marshalltown.
Volleyball
The volleyball team is ready to take on the season.
High energy practices, staying consistent, individual work, and teamwork is how volleyball coach Michelle Blake would describe volleyball. The team has 38 kids out, with the varsity team having nine wins and six losses. "We started on a really high note, but now we're kinda looking to get more consistent and continue to play at that high level all the time," Blake said. "(The season is looking) Promising. We're just getting started. We're only a few dates in and we have a lot of volleyball still left to play so things are looking really promising for our girls."
Over the summer, the team went to some summer leagues in Council Bluffs, played early in the morning, put a lot of skill work in, and worked on individual work. "You get stronger, you get better individually in the summertime because once your season starts it's too late for individual work. It's time for teamwork. They put a lot of individual work in over the summer and it's really starting to connect about what we're doing in the season," Blake said.
The team played at home on September 14. "I look forward to opening on the 14th at home and having a really good crowd and just having them show everybody what we do as a team. Not just necessarily as just individuals because we're a super dynamic group," Blake said.
Cheerleading
The cheerleaders are ready to bring pep to the students.
"The hardest part of cheer is overcoming the stereotype of the sport. People often think of cheer as a "girly sport" that doesn't require physical effort, but it is truly a difficult sport that requires a lot of dedication," said Taliya James, one of the five seniors this year. Even though the team has been faced with a tremendously hard challenge, the cheer team still continues to persevere. "I feel that we are overcoming and coming out stronger than ever. We have a great team this season and I am happy with where we are right now, and I'm excited to see what we can achieve," James said. 
Even though people might think cheer is easy, it's "more about the uniform and the stereotype. We put forth a lot of hard work and time to make sure we portray a positive image for our students," she said. This summer, the cheer team attended a camp, lifted weights, and attended flexibility and yoga classes. The team practices four times a week including workouts, spiriting, and brainstorming sessions. 
James decided to go out for cheer because she wanted to be more involved with the student body. "Cheer gave me a voice and a reason to put myself out there.  I also had previous cheer experience and years of dance that made it easier for me to get into the sport." One of the team's favorite cheers is Battle Cry because it involves the crowd.