Genevieve McCalla
Sophomore Genevieve McCalla made it into the All-State choir.
November 8, 2021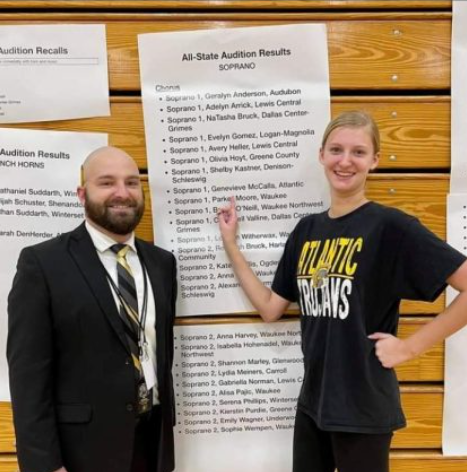 All-State was something I knew I wanted to work hard for, even though I was sure I wasn't going to make it. Even from the first camp, we went to, I thought that everyone in the room sang better than me. 
I thought it would all be okay when I didn't make it because I wouldn't be disappointed. Even on the day of auditions, while we lay on the cold tiled floor of the 400 hallway behind the school kitchen, I listened to those around me practicing. The beautiful, clear sopranos down the hall who didn't have to scream to reach those high notes. When it was finally time for our seven-minute audition, I didn't think it even went exceptionally well, although the judge was friendly. When the recall list came out, I admit I was still sad I didn't see myself on it even though I thought I had prepared myself.  
I found out that I'd made it after laying on the floor for hours and heard screaming coming from the gym. The tenor from my audition group came out and told me, "You made it." I didn't even have to get recalled. 
To this day, I still wonder how I managed it and why I got picked instead of anyone else. Of course, I'm happy, but I still feel bad for those that didn't make it but deserved it more than me.