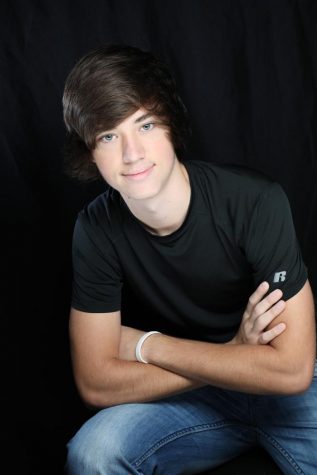 Trevor Wendt, Chief Producer for Eye of the Needle will always make you slightly mad if you were hanging out with him because he changes a song halfway through it even if everyone is having a very good time listening to it. Wendt shows his dedication to Atlantic in school and out of school being in golf, soccer, and football.
Wendt's favorite Eye of the Needle production was the 2016 Christmas Special just before winter break.Wendt's favorite thing to do as Chief Producer is to just put out shows that everyone will enjoy while watching Eye of the Needle.  
A casual day for Wendt would be at home watching Family Guy while having a Jack's frozen pizza.
When watching football on Saturdays he will always catch the Rochester Community and Technical College Yellowjacket play, and as for Sundays, he will catch the Minnesota Vikings play. If you happen to catch a peek at Wendt's phone you could possibly see him stepping over Creston's quarterback Kylan Smallwood like Allen Iverson did to Tyronn Lue in the 2001 NBA Finals.
He would like to call himself a "go getter" and would never give up his sense of pride to anything. His inspiration or person he would call his inspiration would be his dad, Mike Wendt. Some normal eating for Wendt if he had to get his own food would chicken pot pies and alfredo pasta.
If anybody would know Wendt the best is would be friends "John McConkey and Zeke Whetstone". When asked if he has any hidden things that people do not know about him he would say no "Mostly everything is known about me" so he keeps it very open with everybody. If Wendt could choose one superpower it would be to have a photographic memory.  
Profile written by: Korben Peterson
Trevor Wendt, EON Producer
Mar 01, 2018

Eye of the Needle, February 28, 2018

(Story)

Feb 09, 2018

Eye of the Needle, February 7, 2018

(Story)

Feb 01, 2018

Eye of the Needle, January 31, 2018

(Story)

Jan 29, 2018

Eye of the Needle, January 25, 2018

(Story)

Dec 08, 2017

Eye of the Needle, November 22, 2017

(Story)

Dec 08, 2017

Eye of the Needle, November 29, 2017

(Story)

Dec 07, 2017

Eye of the Needle, December 6, 2017

(Story)

Oct 31, 2016

State Cross Country Photo Story

(Media)

Feb 07, 2016

Who's Going to Win the Super Bowl?

(Story)

Jan 26, 2016

What's Your Favorite Movie?

(Story)

Jan 23, 2016

What's Your Favorite Movie?

(Story)

Dec 23, 2015

How much does your bag weigh?

(Story)

Dec 09, 2015

1 Question 25 Answers: What's on your bucket list?

(Story)

Nov 20, 2015

1 Question 25 Answers

(Story)