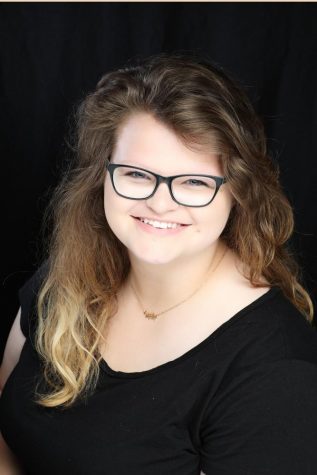 Junior Javelin Editor-in-Chief takes a lot of work for Sarah Schorle. Her favorite aspect in journalism is being able to work independently, but also together to create "one big vision." A project she is most proud of is setting up Trojan Tries for the Eye of the Needle. In addition to journalism, her activities include band, jazz band, choir, show choir, play, musical, speech, debate and student council. All of these activities would make up for a busy schedule.This is why her friends describe her as "involved, opportunistic and sarcastic."
Despite her busy schedule, she sometimes has free time. In her free time she enjoys hanging with friends, and "making brownies with the besties." Speaking of friends, the person who knows her best is Rebecca Hallman. Something that Schorle would never change about herself is her sense of humor, which is obvious in the way she describes herself as "chunky yet funky." She also said that she would not root for a football team, but rather the marching band. One thing she owns that she would never give away are her fun socks.
A calming place she goes to is her bed. A person she looks up to is "Mr. Bales" (AHS English teacher), because he is "always willing to work with people." She also trusts him and appreciates what he does.
A fact that many people don't know about Schorle is that she prefers pancakes over waffles, which is also the last thing she cooked. The wallpaper on her phone has little space aliens on it, and the talent she would acquire without effort is dancing.
Profile written by: Haley Engler
Sarah Schorle, Javlin Junior Editor in Chief
May 24, 2017

Getting to Know the Class of 2017: Alexander Williams

(Story)

May 19, 2017
May 16, 2017

Getting to Know the Class of 2017: Kylee Champlin

(Story)

Apr 07, 2017

Trojan Horse Comes Galloping In

(Story)

Mar 29, 2017

Results for Solo and Ensemble

(Media)

Mar 13, 2017
Mar 09, 2017
Mar 09, 2017
Mar 09, 2017
Mar 09, 2017
Mar 09, 2017
Mar 09, 2017
Mar 09, 2017
Mar 09, 2017
Feb 28, 2017

First of Three Superintendent Interviews Held Monday

(Story)

Feb 23, 2017

Buena Vista Honor Band Cancelled

(Story)

Jan 27, 2017

Midnight Madness – OPINION

(Story)

Jan 26, 2017

Strapping Speech Weekend

(Story)

Jan 19, 2017
Jan 12, 2017

Bands on the Beach

(Story)

Dec 15, 2016

An Unfortunate Loss

(Story)

Nov 16, 2016

American Tragedy- OPINION

(Story)

Oct 06, 2016

The Hardest Sport – OPINION

(Story)

Sep 21, 2016

When in Doubt, Dab Out? – OPINION

(Story)