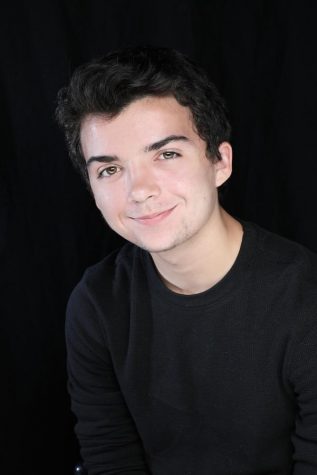 Noah Rutherford films for the "Trojan Buzz," a section of The Eye of the Needle. "I edit and on camera for the buzz," Rutherford said. The video he is most proud of in his segment was when he covered the new movie "It" and people's fear of clowns. While working in journalism, Rutherford says that it "doesn't feel like a class," and also the classwork "doesn't feel like homework either." Rutherford said a person he looks up to is "Mrs. Berryhill because she is the most enthusiastic teacher I know."
Rutherford claims that his idea of a relaxing afternoon is "drinking hot cocoa and watching Bob Ross." His hair is one thing that Rutherford said he would never change about himself. His favorite team is the Eagles. Rutherford said "that was my favorite team when I was little." Rutherford also stated that one person that would know him best would be Brandon Woodard. If he had to eat one single food for an entire year he said he would eat strawberries.
Rutherford, only using two words to describe himself said "Native American," and one item he would never give away would be his guitar. One calming place that Rutherford likes to go to is "on top of the roof at the elementary school in Omaha," and the last thing he cooked or baked was chicken wings. A specific talent that Rutherford would like to learn without any effort would be able to skate on handrails with a skateboard.
Profile written by: Zach McKay and Alex Harper
Noah Rutherford, Trojan buzz Anchor
May 09, 2018

Told By the Black and Gold –

(Story)

Dec 08, 2017

Eye of the Needle, November 22, 2017

(Story)

Dec 07, 2017

Eye of the Needle, December 6, 2017

(Story)

Feb 06, 2017

Getting to Know the Class of 2017: Garrett Grooms

(Story)