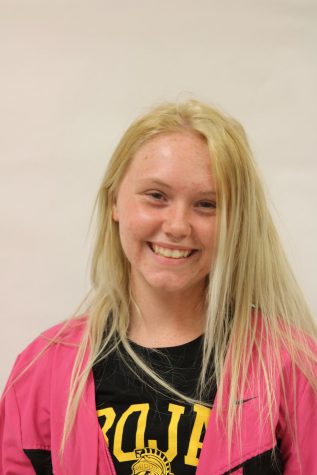 Although she may be good at cheerleading, running track, playing volleyball and dancing, sophomore Mia Trotter says she's the best at eating. With everything she is involved in, Trotter spends a majority of her days here in the halls of AHS.
Trotter decided to do journalism because she likes taking pictures and all of her friends were doing it too. She is most interested in the photography aspect of journalism because "of all of the rules you have to remember when writing like a journalist." One of her favorite memories from journalism so far is being loud and obnoxious with Bryer Rose.
If Trotter had to pick one person in her life that she admires the most it would be her pastor because he "took a kid in that was in his youth group" and she feels like it relates to her life. Right now biology is her favorite subject because it allows her to learn more about the human body. This is enjoyable for her because she would like to study at Dort in order to be a  pediatrician after she graduates.
Story by Makynzie Steffens
Mia Trotter, Staff Writer
Apr 26, 2019

Girls' Track Team Takes Home Second Place at 2019 COED Ram Relays

(Story)

Apr 11, 2019

Girls' Track Wins Lady Panther Relays

(Story)

Apr 02, 2019

Girls' Track Places Third at Denison

(Story)

Mar 23, 2019

Trojan Girls' Track Starts Off the Season Right

(Story)

Jan 30, 2019

Girls Wrestling Grows in Popularity

(Story)

Dec 18, 2018

All About Archery

(Story)

Dec 06, 2018

Wrestlers Snag Four Individual Titles at Humboldt

(Story)

Nov 23, 2018

Dance Team Prepares for First Performance

(Story)

Oct 22, 2018

NEWS BRIEF — AHS Investigates True Crime

(Story)